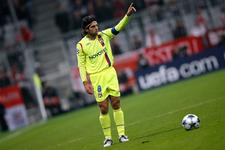 This afternoon, Juninho, the OL captain spoke to the Press. He evoked Mensah, Nancy but also Barcelona and Karim Benzema.
What do you think about what happened to John Mensah against Le Havre?
We saw that he was annoyed and wasn't focused on the game. Right now, what is important is that he recuperates. I have never experienced anything like that in Brazil. None of us wants to see it happen again. I mean come on we're in 2009, after all!

Can you understand that he thought about putting an end to his career?
I didn't see him after the match, he left straight after his red card. I didn't have time to talk to him. I spoke with Kader (Keita). Certain people are able to deal with things better than others. Even if John is physically strong, I can understand his disappointment. He has a great future at OL, he can bring a lot to the club and the team.

How are you preparing for the match against Nancy on Saturday?
We don't have a huge lead; between one and six points, it's not enough. We know that we have a difficult schedule. We have to retain our advantage and to do so we must get something out of the game against Nancy, we're going there to take all three points.

Did the victory over Le Havre reassure the squad before the match against Barcelona?
We were present in the game on Sunday and the victory was well deserved. We hadn't managed that for a long time as we had conceded four draws in a row, often with difficult conditions though: against Valenciennes, the pitch was not in a fit state to play on; away to Lorient, my team-mates played on a frozen pitch in the second half; we then drew with Marseille and our rivals Saint-Etienne. This run of 4 drawn matches in a row can be seen as negative, but we put in some good performances anyway.

OL have started finding the net again over the last two matches...
We haven't scored as many goals this season, as we haven't been creating enough chances. For long periods of time we have been dependant on Karim (Benzema) but now other players are starting to score. Makoun has four goals, Ederson as well, I have scored five. Our forward line has been in form over the last few games. Without taking into account Concarneau, we put 3 past Nice and Le Havre. But if we won each match 1-0, that would gives us 38 goals. That would be enough for me!

Benzema has only scored twice in 2009. Is he going through a tough period?
Maybe he is saving himself for the Champion's League...We're not worried. He has had a few chances. Against Nice, he almost scored two through penalties. He is moving around well, he's trying and that is the mark of a real goalscorer. He hasn't had too much luck but he is still present. You cannot really look past him since he took off last season. But if he has a little drop in form, it would be the first of his career.

Do you think that against Barcelona the most important thing will be not to concede?
Yes. But I'm not sure how we will do it. I think Barcelona have scored in every game this season. Things will be decided out on the pitch. We will have 90 minutes to make the difference. If things go the way Barcelona have decided then it will be difficult. But if we play to the best of our abilities, we can rival and even beat them as we have already shown that we can compete with the best teams in Europe. We will try to be well positioned on the field. A lot will be down to our strikers: we will be counting on them.

What would be the best result for Lyon?
1-0 would be perfect. It's a victory. Football is difficult to predict and you cannot choose your results.

What do you think when you hear Eric Abidal state that Barcelona are not favourites for the match?
It's polite. Eric is a former OL player, he was born here. Any player with a certain amount of class will never say that they are favourites. The las time that we were considered favourites was during the Wold Cup in 2006 and we all know how that finished.... Even if the match will be decided on the pitch, they know that they are favourites. I've seen Barcelona play on a number of occasions this year and they are a great side. They deserve all the praise that they receive. They love playing football, attack quickly, master their opponents and keep a hold of the ball. I still haven't changed my mind: Messi is the best player in the world at the moment. But the also have Iniesta, Eto'o, Daniel Alves.. Barcelona are the sum of all their objects, they are not about one player. But, a star like Messi can make all the difference. We mustn't forget that the second part of the Champions League is a lot different to the first. They will have a lot more pressure as they have to confirm their status. And if they put in a poor performance...

We imagine that you must want to score, because when Juninho scores in the last 16, Lyon make the quarter-final...
If I score it will be a good sign. Even if we have qualified on three occasions, we have also had our share of disappointments in the past; we shouldn't put ourselves under any unnecessary pressure. We still have a lot of important matches to come.

Will the match against Barcelona be your final big game in a OL shirt?
No. There is still three months of competition to go. But it is true that when you are eliminated from the Champions League, you have to wait a long time before you play in the competition again.