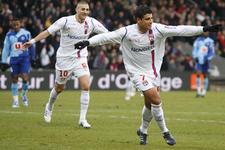 OL were in control of their match from start to finish. Despite the sending off of John Mensah twenty minutes from the end of the match and a final push from Le Havre, OL won the game without any problems.

Claude Puel took the decision to go with his traditional 4-3-3 formation. John Mensah made his comeback at right back in place of the injured Fabio Santos and of course those of Clerc and Réveillère. Up front, Karim Benzema was joined by Keita and Ederson.

Claude Puel's men get straight down to work. Ederson and Benzema are involved in all of the good movments, but for the moment Revault and his team-mates held firm. The encounter became more balanced as the minutes ticked by and Le Havre were able to hold onto the ball more often. The first dangerous effort came from Fabio Grosso after some good work by Karim Benzema but Revault was able to punch the ball away (12'). Juninho fired in a free-kick from the edge of the penalty are but was only able to hit the side-netting (18'). Played in by Juninho, Benzema went by his defender and tried a shot with his left foot. The French internationals effort lacked enough power to worry Revault (25'). Following a Juninho corner, Boumsong saw his headed effort saved off the line (29')!! After some good play, Benzema subtly let the ball run through to Makoun who came up a little too short, but not Ederson who controlled and fired past Revault (34')!! Le Havre tried to answer back through an Alla free kick which was headed towards goal but Hugo Lloris had the situation in hand and plucked the ball out of the air (39'). With a defender missing the ball, Benzema broke away on a counter attack. He slowed down proceedings and slid the ball to Makoun who then played a pass in behind the defence for Keita who was able to control and double OL's lead (44')! Monsieur Hamer almost immediately brought the first half to an end.

Karim Benzema was played in well behind the Le Havre defence, but Revault came off his line quickly to pick up the ball (49'). From a corner, Alassane gave Gerland quite a scare, but his header went just wide (53'). OL put on a show for the crowd at Gerland with a move started off by Keita then Makoun who slid the ball to Ederson. The Brazilian resisted one challenge and then flicked the ball to Benzema who saw his effort fly just millimetres wide (59')! After a counter attack, Grosso played in a cross for Benzema, who's header was pushed out for a corner by Revault (65'). OL managed to hit Le Havre on the counter frequently and Jean II Makoun, alone against Revault, saw the ball bounce up off the pitch just as he was about to shoot (69'). After having stupidly picked up a yellow card in the first half, Mensah was sent off for a tackle from behind on Alassane (71'). OL would once again have to finish the match with only ten men. Jérémy Toulalan moved over to fill the position of right back. Juninho fired in a free-kick from 30 metres out and the ball bouncing wickedly in front of Revault ended up in the back of the net (74')!!! 3-0! Gerland gets carried away with a Mexican wave! Le Havre managed to save some face with Nestor heading past Hugo Lloris following a free-kick (82')! Piquionne who had come on in place of Benzema,played in a great cross for Källström who saw the Le Havre keeper save both of his efforts on goal (90'). The match finished up with a score of 3-1!