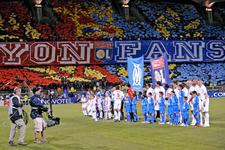 OL went back to a 4-3-3 formation against Nice, winning 3-1. Has this formation been the magic formula since the start of the season? Do OL score more often when using it?
A reminder : OL have played 33 matches (18 victories, 10 draws and 5 defeats) ; 52 goals scored and 28 conceded. The 4-3-3 formation in question does not include the one with Ederson, Pjanic and Delgado as third midfielder.

OL have only lost one game when starting with this formation , against Metz in the Coupe de la Ligue; 1 defeat in 15 matches (9 wins, 5 draws). On two occasions the formation was changed during the match (Nice & Fiorentina) in order to take a win or a draw.

23 goals scored (having taken away the 2 goals scored against Nice and Fiorentina) and 15 conceded, in other words, an average of 1,76 goals scored and 0,53 conceded per match. The season average is 1,57 goals scored and 0,85 conceded. Benzema has scored 8 of his 17 goals when playing in this system.

This system has been used on 5 occasions in the Champions League, being changed at half-time against Fiorentina. 10 goals scored out of 14 ; 7 conceded out of 10.

When the trio Juninho-Toulalan-Makoun have started a match, excluding the game against Fiorentina where Makoun came off at half-time with the Italians 2-0 up, OL have won 8 games and drawn 2 having scored 19 goals (goals scored when all three players were on the pitch).