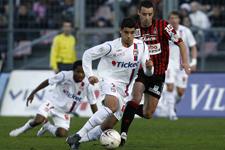 All the reactions from the OL camp after the win away to Nice.
Claude Puel
We're in the strange position of winning on the road and drawing matches at home. We have to do something about that and give our supporters something to cheer about at Gerland. It's true, we had to take all three points tonight. I think we played well, with a very good first half despite a poor pitch. We were up against a side that were possibly tired, but who caused us problems anyway and played with a lot of heart. We were able to avoid reacting to their provocation and remained lucid. It's a shame that we didn't manage to score a few more goals with all the chances that we created, it would have been good for our goal-average. We could, and should, have scored more but we still fulfilled our contract.

Juninho
I don't think that the referee had any choice in view of the two red cards. We're used to taking knocks, but it was good that the team did not panic. Before the match, we spooke and decided that we had to play for a win as Nice had played 120 minutes on Wednesday. We knew that if we kept a hold of the ball we would create chances and that is what happened in the first half. We scored two and missed two clear cut chances. We were solid and focused, which is very important in such moments.

Jean-Michel Aulas
We dropped two points against Saint-Etienne by conceding the draw, but having played three matches in the week including a game against Marseille with 10 men. We have to take that into account. We cannot get carried away after beating a good Nice side who had played in the Coupe de la Ligue on Wednesday. In the same way that we shouldn't have gotten impatient last week, we musn't get carried away tonight. The team put in a great performance, Claude was very clever as on an organisational side, and with the atmosphere, it was a tough combat. It was difficult to come and take the points here even if it appeared easy. We didn't need a great Olympique Lyonnais on a technical side as the pitch was in a poor state, but a great Olympique Lyonnais as far as control and experience is concerned and that is where I can see thta our team has progressed. Few team's will come here and win, today we managed.

Nice
Loïc Rémy
Lyon clearly showed their ambition as far as the rest of the league campaign is concerned. After that, our two red cards helped them out as well. We tried to play well and hit them on the break, but OL were well organised and the score reflects their performance. We got back into the match just before half-time and pegged them back, but after the sendings off they were well in control an were able to score a third goal. We tried to limit the damage as we could have easily conceded more tonight, with all the chances that they created. We have to get ourselves back on track against Le Mans next Saturday.