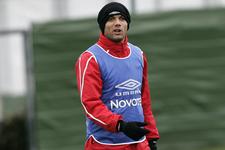 In front of a large number of supporters, the morning's training session was heavily orientated towards technique work.
After a warm-up session, Claude Puel's men went through a fifteen minute weights training session.
Under the orders of Joël Bats, the goalkeepers worked on their reflexes and their shot stopping. As far as the outfield players were concerned, they worked on their technique, taking part in a workshop on passing, alternating right and left foot passes as well as passes using their head's.
The squad finished up their session with a match, Juninho, Cris and Kallström did not, however, take part. Fred and Delgado did not participate in the training session.

Another training session is programmed for this afternoon at 16h00.