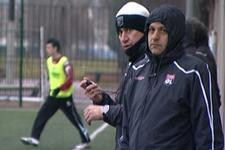 After a day off, the OL squad got back into training at Tola Vologe, under the rain.
After fifteen minutes of jogging, the players who were in the starting line-up for the match against Saint-Etienne went back to the dressing room. The substitutes from the last match as well as the other players from the pro squad took part in a match of 9 against 9, joining them were Hugo Lloris, Claude Puel and Bruno Genesio. Both sides were only allowed one touch of the ball and had to try and score in an empty goal whilst stopping the other side from scoring. The players mixed things up by first of all scoring in smaller nets, then building up to full size goals. The movements from attack to defence were very physically tough.
It is of note that Fred was absent from the group, as were Clerc and Delgado.

Tomorrow sees two training sessions scheduled at 10h00 and 16h00.