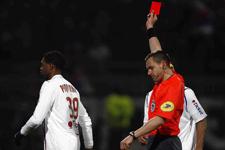 Find out who said what after Lyon's 1-1 home draw against Saint-Etienne...
Frédéric Piquionne
I'm really disappointed. I'd like to apologise to the supporters because my performance tonight was a real catastrophe. I think it was almost gross misconduct to have been so bad out on a football field. I don't even think I'm worthy of the shirt because tonight I was terrible and I'm just devastated. Everyone had their eyes on me for this match, the coach had confidence in me and I didn't live up to his faith. Tonight has been very difficult for me... I was desperate to do well and I got everything wrong.

Claude Puel
It was a really tough game. We started a bit timidly; we weren't able to go at them from the kick-off. Slowly we lifted the rhythm of the match and finished the first-half well with a few good chances which unfortunately, we weren't able to put away. In the second-half, we started quite well. To equalise just moments after going behind is a very good thing and I think we had the potential to go on with it then, but the sending-off changed the match. The players started to tire, which is understandable given the matches against OM and ASSE, both playing a man down and I think we did well to stay level on the scoreboard. I don't think we could have done much more given the circumstances in the second-half and I think the draw was probably the right score.

Kim Källström
It was hard to play again after Wednesday's game. In the first-half, we controlled things well and had a couple of good chances to score. It was a real blow, with over half-an-hour to go when we equalised, were looking good and then got that red card. From then on it was difficult because we were obliged to defend and that took the initiative. We still had two or three half-chances to score a winner but one point was still a good result. We're still leading the league and that's very important.