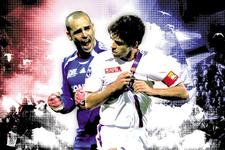 OL are in better form. It is up to the players to prove this in a derby against a team in poor form. Passionate…
During his weekly press conference, Claude Puel resumed in just a few phrases, his thoughts of the moment. Very simply, but with force and conviction. A message. A constatation. Words full of hope for the future . « I like the way my squad is, the way it has become. This group still has a lot to give. They are united. They have become more responsible … since the terrible match against Lorient». Gone is the legendary discretion of the former Lille coach. It is time for confession. Like the fact that he declared there would be no recruits during the transfer window, and that each player is considered in the same way on the condition that they put in the necessary work on a daily basis.

OL's performance against OM was pleasing . Juninho et al are cordially invited to play that way more often … especially during a derby. The style and the result, two ingredients for a win and to please. Especially considering that OL's room for manœuvre has dwindled this season in the league. Bordeaux are snapping at their heel's; OM, Rennes, PSG, Lille, Toulouse all have ambitions. It's up to Lyon to mark their territory.

Certain polayers have been doing so since the start of the year, like Delgado, or Fabio Santos. The centreal defensive pairing has confirmed it's solidity. There is still «Toulalan », « Juni », « Benzema », Hugo… On paper and looking at recent form, OL are favourites, but they should not forget that recent derbies have been tight affairs with goals a rarity. One question? Will Claude Puel use the same system as in all the matches since the game against Grenoble? Will he keep his confidence in the same players, with the exception of Keita who is suspended?

Saint-Etienne are not in great form . Floating precariously above the relegation zone, they are in need of points. So, if they managed to grab some from this special match, their delight would be multiplied for the present and almost certainly for the future. And, obviously, Alain Perrin will want to pull something off at Gerland. He has never been the cautious type … and will definitely not be so on his return to Lyon. A leaky defence, couipled with a misfiring attack … his side does, however, still have the possibility of upsetting their now illustrious neighbours.

A derby for conformation, to please, to show off superiority. A derby, also, for taking points and staying on course in the league and continuing a series that started in the month of April 1994.