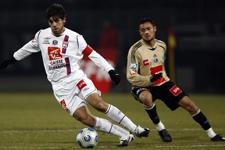 Read all the reactions from the OL camp after the victory over OM in the Coupe de France.
Claude Puel
We started the match in fine form and were able to close OM down quite high up the pitch and we were fortunate that Chelito picked up a good ball and was able to play in Karim straight away, which really put us in the right tempo for the match. We had fixed how we wanted to play before the game and the players stuck to it. We wanted to inject some quality into our play, playing together simply when we had the ball as well as when we didn't. Our first half performance was good. I think we could have even scored a second which would have put the mach beyond them. In the second half we controlled the match well despite the sending off of Kader (Keita). There was a lot of solidarity within the team when we didn't have the ball and we launched some counter attacks which could have been fatal. We even hit the uprights on two occasions without gaining any reward. We put in a good match. When we had to work hard, th eplayers stood up to be counted.

Jean-Michel Aulas
It was an interesting match as we were up against a very good Marseille side. OL, despite the handicap of having lost on numerous occasions to OM in recent years, put in the match that they had to. Claude Puel had prepared the side well as they showed a lot of desire. We had to have good team spirit as we were up against one of the best sides that we will face this year. It was just like a European cup game. As far as performance and professionalism is concerned, it was perfect. Now, we have to go to Lille, then play Lille at the Stade de France just a few days after, then there will be the return leg against Barcelona.
Transfer window: Finding a player that has not played in the Champions League at this time of the year is not easy. It is far from certain that we will be bringing anyone in, I'd go as far as to say it is unlikely.

Fabio Grosso
We deserved to win this match. We had a lot of chances and we played really well tonight, but we have another big game coming up on Sunday against Saint-Etienne. Physically, we were in good form. We closed them down a lot in the first half and put them in difficulty. Everybody is working hard in training and everyone is ready to play.