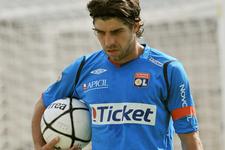 Absent against Concarneau on Saturday, Juninho wil be back for the Coupe de France last 32 match against OM tomorrow. The Brazilian talks about the week facing OL, the form of the seven times French champions and the situation of his compatriot Fred.
How are you working in this week that will see you play two important matches against OM and Saint-Etienne?
Before the derby, we are up against Marseille, there is an historic rivalry between the two sides, and we don't really have any good memories against them in the Coupe de France, as they have often knocked us out. In the league, winning a match brings you three points whereas a win in the cup only takes you to the next round, but we can lose a lot, on Wednesday we have more to lose than to win. The Coupe de France is a fantastic competition, so we will be giving our best to win the match. We still have in mind the game against OM in the league (December 14 0 – 0), which was quite poor and very tight, it was a game in which both sides defended a lot. Whatever happens, one team will go through, the match should be more open than the last encounter.

How do you explain the fact that OL have had trouble scoring this season?
If we want to win something this season, we will have to score more goals, even if the fact that we are not conceding many keeps us in front in the standings. We have discovered more balance and stability at the back. We are less good as far as recuperating the ball is concerned, we recuperate the ball deeper than we used to and less from the opponents directly. Ideally we would like to find a good balance there as well. This season, we get forward more quickly, we have a more direct style of play and try to find our forwards rapidly. We rely heavily on Karim (Benzema), but he is a marked man on the field and the referee's do not protect him enough, he takes a lot of knocks and it goes far beyond normal aggression but nobody says anything about it. There is no longer a surprise effect, he is very tightly marked and we have few other players capable of scoring. From then on, things get complicated. Against Grenoble, we won thanks to goals from Ederson and Chelito (Delgado); maybe they will start scoring more and make a difference.

Against Grenoble, you were very solid. Is being less flamboyant and more solid a step that you have to go through?
I think so. If we manage to have a solid team, we will create goalscoring chances. Afterwards it all depends how lucky or efficient that we are. Lots of teams are victorious like that. We heard after the match against Grenoble that OL had not been brilliant but just a few hours later, Bordeaux were not too great against Nantes. If you want to win the league, it is solidity and efficiency that count. There is no use being flamboyant if you win nothing, you have to be solid, end of story.

Do you enjoy being positioned on the same line as Jérémy Toulalan aas was the case against Grenoble?
Yes, I get to touch the ball more often like that, I can go and tackle defenders and play in my team-mates more often. I have less goalscoring opportunities but that is not a problem. I played like that with Djila (Mahamadou Diarra), and it worked well.

It is often said that it is difficult to win two games in a row at home. Does that worry you?
We used to win a lot at home, Gerland was a fortress and hostile to opposing teams, but this season we have drawn a lot of matches and dropped a lot of points. We have to try an re-find our former spirit.

What do you think about OM?
They are a quality side that plays good football. OM have a lot of players that are very mobile, they make a lot of runs into space, something that we do less of as we play more with the ball at our feet.

Which is the more important game of the week?
The next one. As Wednesday comes before Sunday, the more important match is the one on Wednesday. Afterwards we will focus on Saint-Etienne. Ideally we would like to qualify in the cup before winning the derby.

Are OL favourites for this match?
No. We were knocked out of the Coupe de la Ligue by Metz (1-3), it would be normal that Marseille beat us. But I am confident that we will go through.

Sylvain Wiltord could be in the starting line-up for OM. What do you think about his return to Gerland?
I'm happy for him. On a professional level he brought a lot to the side. In the dressing room he was important as well and that is something that we are lacking today. He had a great desire to win, in France it's rare to find a player with such ambition. He was often present at decisive moments, I hope that will not be the case on Wednesday.

[IMG41455#R]There is a lot of talk about Ricardo Oliveira coming to OL. What is your opinion of him?
He is a great player with a lot of talent. He has had a few problems with injuries but he is back now. The winter transfer window is always delicate as you have to think in the long term and not take knee-jerk decisions. Ricardo would appear to be a good opportunity: he is an international who has played at the highest level. But any player that comes in has to realise that they will not have any tile to adapt, they have to be ready to share responsibilities with us, iy is something that we are lacking today: we need more personalities and not just good footballers.

What is your opinion on the situation regarding Fred?
He is a great friend, which stops me from stepping back and analysing the situation. I admire the player and the man, he is young and has a great deal of talent. It's a shame as I believe he could have played his entire career at Lyon. Certain players adapt to European more quickly than others, maybe he hadn't quite finished is training in Brazil before arriving in Europe. He has scored a lot of important goals which gave us some great victories. He had trouble dealing with the end of his contract. Without wanting to criticise the club, it might have been easier if discussions had started earlier. We hope that he bounces back, as he is one of a dying breed of strikers who thrive in the box. A player like him needs a lot of crosses played into the box, but with the explosion of Karim (Benzema), he found himself in difficulty. But, I prefer thinking about happier times like his match against Auxerre last season which gave us the title.