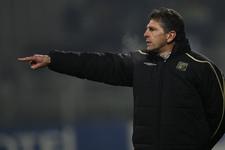 How do you feel about the week that faces OL, during which you will be up against Marseille and Saint-Etienne?
We are in the game to play in matches like the one against Marseille which will be decisive; then we are up against Saint-Etienne in a derby which is very important for the supporters, the club and for the L1. It's a real week, which has fallen at just the right time as it is not during a heavy period. We will be ready for these matches physically.

The league match against Marseille was very tight (December 14 2008: 0 – 0). Do you think i twill be the same this time around?
It should be different. Both sides a fresher and will not be trying to hold onto a result as it is a cup match. Back in December, we played them three days after a Champions League game against Bayern Munich, we were very tired and they had come to try and get a draw, they barely tried to attack. We were lacking enough physical freshness to get past their defensive block.

Apart from a qualification, what are you hoping for from this match?
We want to continue what we have started, show what we can do in terms of our play so that we can add a bit of style to our results and continue our progression. We are progressing, match after match. Our match against Concarneau was interesting in its content and as far as the team spirit is concerned, it will be interesting to see if we can show the same qualities at the top level against Marseille. The squad have kicked on well after the winter break, we have to consolidate our regularity.

Do you feel the need to focus on a winning mentality on a daily basis?
We are at Lyon, we have to be competitors, to hate defeat, to systematically be the best. We have to demand the best of ourselves at all times, whether it be about « winning » or the quality of our play. The squad has changed, a lot of experienced players have moved on, a lot of youngsters and players without European experience have joined up: the squad has to grow technically and tactically but also in its mentality.

Does this encounter give you the chance to send a message to you opponents?
I don't think so. It's a cup game and they are very different to L1 matches. Whoever wins on Wednesday night, it won't have an outcome on the league campaign.

Lamine Gassama is suspended for the reception of Marseille, on Saturday against Concarneau you played Fabio Santos at right full-back. What did you think of his performance?
Nothing is certain for the moment. We still have a week before the end of the transfer window. For the moment, Fabio will play. I'd wanted to try it beforehand, but he hadn't been in the right frame of mind to try the test out. He came back to the squad in good style, his behaviour has been exceptional and I hope this will continue.