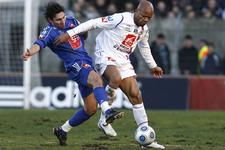 Read all the reactions from the OL camp after their qualification for the last 32 of the Coupe de France.
Anthony Mounier We all went into this match in the right frame of mind. The score is heavy but we showed respect to Concarneau. In games like this, the amateurs always hope that they can cause an upset. We scored a lot of goals, so that is obviously very good for our confidence. I'm very pleased to have score my first professional goals, I'd had opportunities before hand so I was reallty waiting for it to happen. Heading isn't one of my strong points but I received two great passes from Fabio (Grosso) and Kader (Keita) so I really tried my best to put them away.

Claude Puel
We were focused, serious and were rewarded for it. More than the qualification, which was important, we had to put in a match which was full of concentration and application. We have fulfilled our contract, in style in my opinion. The pitch was quite difficult, but we were able to put in a good performance and cause them problems from start to finish. We are going to have a busy week with two important matches. We will have to show our competitive edge. Despite all the injuries we have suffered, the squad reacted well.

Frédéric Piquionne
Obviously it's great to score. We tried to do what the coach asked us to do even if it isn't always easy. The squad is composed of about twenty players, not just eleven. There are two big matches coming up and we hope that we will be able to put on a good showing as they are two important games.