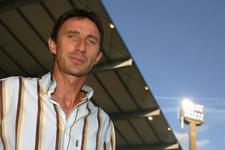 Concarneau play in CFA 2… They are in ninth place in their group and are 9 points behind the leaders, Brest...
Formed in 1911, the Union Sportive Concarnoise has played in the CFA 2 league since the 2007-2008 season. The « Thoniers » have played at a higher level on a number of occasions: in CFA, but also in the D3 getting to within a whisker of the D2 at the end of the 1976-77 season. They also, however, hada very difficult time during the 90's when they were relegated down to a regional level.

In the Coupe de France, Concarneau have rerached the last 32 on two occasions : in 1982 against Brest and 1986 against Limoges.

In the group H of the CFA 2 league, the Bretons are in ninth place, having taken 35 points from 14 matches: 5 wins (all at home), 6 draws (1 at home) and 3 defeats (1 at home); they have scored 14 goals including 12 at home and have conceded 12, 8 of which were conceded at home. They are 9 points behind the leaders Brest. Carquefou, the team top of the CFA 2 promotion list have 42 points. Concarneau's last match was a victory against the last placed Bonchamp, 3-2 with goals from Peron, Nicolas and N'Zinga. In their group, they are up against the reserve sides of the pro clubs Nantes, Brest, Lorient, Angers, Laval. Serge Le Dizet's side have a match in hand against Lorient, and have played just one match so far in 2009.

In the Coupe de France, Concarneau have beaten, successively, Plérin (DH) 6 à 2, Pontivy (CFA) 2-0, Plouvorn (DH) 2-0 and St-Brieuc (DH) 1-0. The victory against Pontivy came away from home, as did the qualifications against Plérin and St-Brieuc.

The coach of US Concarneau is Serge Le Dizet, the former Nantes player and coach. French Champion in 1995 with Nantes, then manager of the club from January 2005 to September 2006 (when he was sacked). 17th and 14th. He coached in the United Arab Emirates in 2007-2008 before arriving at Concarneau. The former full-back was born on the 27th of June 1964 in Douarnenez. He played for Quimper, before discovering the D1 with Rennes before signing for Nantes in 1992, where he played until 1998.