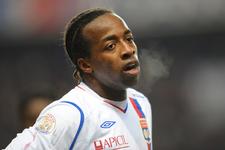 Olympique Lyonnais take this oportunity to inform you of the serious injury suffered by Sidney GOVOU, during the afternoon training session. The forward has suffered a total rupture of the Achilles tendon of his right foot.
Sidney GOVOU will see the Professor Bernard Moyen in the course of the evening to work out the details of his operation. The international forward will, unfortunately, be out until the end of the season.

In other news, John MENSAH underwent a scan which revealed a tear in the aponeurosis of his left quadricep, which will keep him out of action for three weeks.