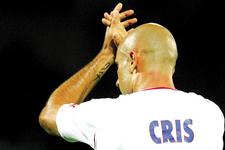 OL's Brazilian defender speaks about the issues surrounding the club at the moment.
OL – LORIENT LAST WEEKEND
The playing conditions were difficult for both sides, but the pitch was playable. We weren't present in our duels, we lacked aggressivity. These days, you have to be aggressive and well positioned as each team we come up against play the game of their lives.

THE MANAGER
Over the last five years we have changed managers quite regularly and we always hear that it is the managers that are poor. We have to ask ourselves questions as the players have their part of responsibilty during matches. It is difficult for each coach that arrives. He has to impose his work ethic. It's up to us to adapt. Right now, it is not the manager who is at fault.

THE STATE OF THE TEAM AT THE MOMENT
We cannot go on like that. Our last victory at Gerland dates back to the match against Bordeaux (November 16th 2008). It's been a long time. There has to be a reaction, because if we lose the next match (against Grenoble on Saturday) we could end up in third or fourth position. We have to get it into our heads that we have our qualities and then transpose that to the pitch.

[IMG42865#R] THE NEXT STEPS
The solution, it's to play and win! We have to remain focused on the next few games. It is true that we have some difficult matches coming up. We have to change our frame of mind. Today, the other teams no longer respect Lyon. Why? Because we are not aggressive and are far too comfortable on the pitch, we just assume that a goal is going to come, no problem, we don't work hard enough to go looking for a goal …

THE L1 IS READY FOR OL
In Europe, we play against team's that have different styles compared to that which we play against in France. In the Ligue 1, we are up against side's that know us very well, us and our style of play, it is more difficult to play in the L1 than it is in Europe. The L1 clubs are just waitning to play against OL whereas in Europe we are up against quality sides that also allow us to play. In the league, we cannot play as we are to comfortable and not aggressive.

GRENOBLE NEXT WEEK-END
It's a very important match. First of all, because it's a derby. It's a match that can allow us to make the difference in the league as there are three or four teams just behind us. They are all looking to overtake us. At the moment, the league is very tight and we are playing under great pressure. We will now see the real Lyon side. And how to play under pressure as that is the case right now.

CRIS-BOUMSONG. STABILITY REFOUND IN THE CENTRE OF DEFENCE
We understand each other, we take a lot. At the start things were difficult, but I think that is normal. We found our rhythm, we've now been playing together for quite a while in the centre of defence. It's good for the team. In a match, we both try to give this aggressivity to the rest of the team. If we show them that we are feeling good at the back, our team-mates will notice it and be the same.