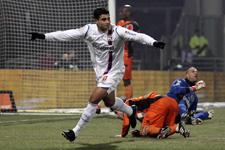 All the reactions from the two opponents.
OL

Jean-Michel Aulas
We didn't start off too well against a Lorient side who have caused problems to all tht etop sides in the League away from home. Just as in the first game against them, we've only managed to take 2 points from 6. Tonight, we were in difficulty in the second half even though we had controlled the first. We were not very efficient: leading 1-0, we had three chances to build on our lead. Obviously we are disappointed to have only taken one point. The leguae will be very difficult right to the end. Taking a point in these circumstances is mauybe not as bad an operation as it seems. We're still in front and we're going to hang on. We're going to have to go and take points away from home.

Ederson
I'm pleased that I scored, but I would have been more so if we had won. We only managed to take one point this evening and our direct opponents won, it is not a good result for us. We need to win bak the points we have dropped, and we will have to be at 100% as of out next match. In the first half we had chances but they wouldn't go in. In the second half, we found it difficult to play. There was a lack of automatism between us, it's been three weeks since we played together. It will come back. We will carry on working in training and moving forward together. The pitch was very hard, it was difficult for both team's, so I think the draw is a fair result.

Miralem Pjanic
It was a difficult match but we had our chances at the start. Maybe luck just wasn't on our side. If we had put those chances away, we would have certainly controlled the game. Lorient were very realistic, and we couldn't find any solutions. It wasn't easy as they were very well organised. We have to do much better.

Hugo Lloris
We could have made the difference very quickly in the match. We created chances that we really should have finished off. When you don't put them away, they come back to haunt you. That's what happened tonight. Hopefully that will serve as a lession to us. Their equaliser hurt us and we had trouble reacting to it. In the second half we were'n good at all …Unfortunately, we were just inexistant. My double save? The defenders did a lot of good work as well, it was quite close at times. They saved us from a hold-up. Now, we have to ask ourselves the right questions and move on. We will go and recuperate these two dropped points away from home. We mustn't start doubting. It was just a match, a match after a long break as well.

Claude Puel
It was a complicated match, a comeback match, that's all. We had a lot of chances in the first half, we could have put away a second goal which would really have helped us. Scoring from their only chance, Lorient really hurt us just before half-time. In the second half, we often lost the ball and were unable to put any pressure on Lorient. We didn't play as I wanted us to. Tonight's match was very disappointing. In the second half we lost the ball to quickly, we played in too direct a manner. We weren't present in the second phases. Things are going to be complicated now, but we'll get there. Lorient were in the match physically and they kept the ball well. We were quickly tired out in the second half and started lacking lucidity. We lost the ball far too quickly, in simple situations, simple balls from the back. We lacked a certain amount of technical control. We have to start focusing more and adding a lot more quality to out play.

FC Lorient

Fabrice Abriel
In the first half, they could have put the game to bed, they had a lot of dangerous chances. We were much more in control in the second half. I think the draw is a logical result. In this type of match, it is important for us to give a good image of the club. For my goal, we recuperated the ball quite high up the field and attacked quickly, it's the type of movement that we work on in trainingn. It worked out perfectly! I really wanted to score at Gerland.I asked Santa Claus for it! I'd already scored at the Vélodrome and the Parc des Princes...so you really start dreaming! We are progressing and that is a good thing.