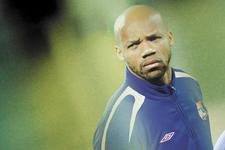 OL's central defender looks back at recent scandals, the forthcoming match as well as his personal record.
The desire to get back to playing

We are all really impatient to get back onto the pitch. Thankfully, the match against Lorient is real soon. We're happy to get back out playing. Would we have been better off playing against Concarneau in order to be be more ready for the return to league competition? It's true that it is always better to go into a league match with a competitive game already behind you. But we only had three weeks off, not three months. I don't think it will be a handicap.

The weather

You cannot fight Mother Nature. We could, with modern equipment, have a pitch we could play on. But Nature turned out to be stronger than Man …even if Man is part of the Nature (laughs). You just have to bow before natural law and get on with things.

Playing at 9pm

It's true that plaing a few hours earlier would be better. 9pm, it's the moment of the day when the temperatures are at their lowest. But do we really have a choice? (smile). No, we don't. We'll have to wrap up warm. In any case, it's all in the mind. We finished off 2008 with a victory (1-0 away to Caen, on the 20th of December). Now we have to think about starting off the year in style. Our objective is to win, irrespective of the style or the playing conditions.

Concarneau

A lot has been made about the postponement, a lot of noise for nothing. I don't think that there is any scandal. I can understand that the Concarneau supporters were disappointed has they had travelled to see the match. But, throwing stuff at us …well it wasn't very cool, or very fair-play. In any case, it would have been dangerous to go ahead with the encounter.

Personal opinion after one year as an OL players

The first 2-3 months were difficult. But I knew I was going to be able to settle down and flourish. That's how it is today. I'm happy and proud to be playing for Olympique Lyonnais… and to be a resident of Lyon, as I live in the city!