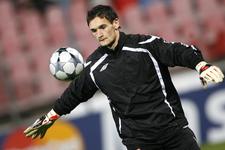 Last week, the match against Concarneau was postponed. Next week-end looks like being incredibly cold. How are you dealing with this time of uncertainty?
Playing conditions are difficult everywhere in France; everyone is in the same situation. We have to adapt and deal with it. We cannot do things half-heartedly, like that we can prepare for our future matches properly. We are focused; we are top level athletes, we have a duty to work well on one hand for us, but for the group as well.

Juninho has complained about the lack of respect that OL hav been shown. Do you feel that OL suffer from a lack of recognition?
One thing is sure: in France people don't like winners, at least in the long term. It's not new, and I didn't need to come to OL to find it out. But we ignore it; we are competitors, we have to give the best of ourselves every time we step out onto the pitch, and win a maximum amount of matches, what happens around us is « secondary »; I have better things to think about than whether people like us or not.

Were you surprised by the reaction of the Concarneau supporters (who threw stones at the OL team bus)?
A little bit, but understanding as well; it wasn't an easy situation: people had come from all over Britanny to support their team. They would have preferred the match to go ahead and it be a celebration. A team like Concarneau would have had a better chance on a frozen pitch, but one thing is certain: the health and safety of the players had to be the first consideration.

On Saturday, you will be up against Lorient at home. What is your opinion on their side?
They are always difficult to play against, the like to play good football and are tactically strong. It's not going to be easy, we will have to be focused, well organised and rigorous. Afterwards, we'll have to up our level of aggressivity, and be as efficient as possible. It's important to start off with a victory and really mark our return to competition.

OL haven't yet played in 2009, but Barcelona have already won twice. Do you attach any importance to that?
No, we're not there just yet. This morning, half of us didn't even know that Barcelona had played yesterday. We don't really keep an eye on what is going on elsewhere, in foreign leagues. It's a match that we will prepare for in a few weeks, but right now we have other things to think about. Barcelona are a fantastic side, but over two matches anything is possible, the main thing is that we believe in our chances and do all we can to be in top form for the game.