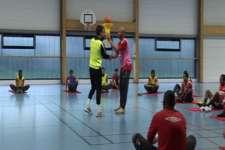 At 15h 30, the OL squad put their training gear back on. They stayed in the gym for a physical session and a basketball competition…
Govou was present for the second session of the day. Robert Duverne organised a session of physical work with a total of 5 workshops, the players had to do four of the five. There was no way that they could hide, with the watchful eye of Claude Puel trained on the group. Just before hand, he had checked out the state of the different pitches. Would the training camp continue , could be the question of the next few hours?

After the session, came a basketball competition. Cris went back to the hotel in order to rest his knee. 4 teams… and some monster players with the ball in hand. Boumsong, Piquionne, Govou, Hartock, Vercoutre… showed off their skills in a joyous atmosphere. However, nobody forgot their winning mentality! There were also some gags from Keita or even Fred. With fantastic technique which came from who knows where. « Boum » was head and shoulders above everyone. At the warming down session, Rémy Vercoutre came and offered him a symbolic trophy of MVP, a trophy made out of a cone, one of those used by Robert Duverne for his exercises, topped off with a basketball. The applause was gaurenteed.

Kim Källström took a knock on his ankle; Hartock, a hand in the face; Boumsong was knocked over by Lloris. A whole load of moments that animated the session. On their way back to the bus, there was still a group of people lookoing for a photo or an autograph. Night has already fallen on Dinard. The OL squad did not see the time, 1h45, go by. Monday's programme? It is still to be decided because of the meteorlogical conditions.