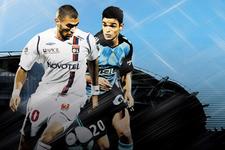 OL's news was focused on the Ligue 1 and the Champions League in November...
In sporting news, Michel Desjoyeaux marked people's in the Vendée Globe race… and Bernard Madoff was at the centre of a scandal in the economic world …

December saw OL crowned Autumn champions for a 5th time in a row, this time around with a 3 point lead over Bordeaux. OL only managed a single victory in December, away to Caen (1 à 0) with a new playing system which starts with a diamond formation. How can we speak of December without mentioning the draw for the last 16 of the Champions League! OL will be up against the giants of Barcelona after having finished second in their group behind Bayern Munich… because of a defeat at the hands of the Germans at the Stade de Gerland 3-2 after having been 3-0 down at half time! A Stade de Gerland where a new pitch was laid down at the start of the month ansd was inaugurated by the match against Munich.

[IMG43604#R]In the sporting world in general, the extraordinary performance of the sailor Michel Desjoyeaux in the Vendée Globe race was in the news. He was 360 miles behind everyone after his technical problems on the first day, but was able to catch everyone up and take the lead in the race. The Breton pulled off an exceptional exploit in a Vendée Globe where technical problems have been numerous.

And on a totally different subject, there was the scandal Bernard Madoff, who over many years cheated people, companies, organisations … The affair is made public on the 10th of December. On the 11th, the 70 year old is arrested. He is charged with financial fraud, freed but consigned to his residence wearing an electronic bracelet. He had to pay bail of 10 millions dollars. The scam? Instead of investing the money he was given, he kept hold of the money and paid, with his fabouilous interest rate of 10 to 12% per year, the longest serving investors. This method is called a « Ponzi pyramid » and was worth 50 billion dollars!