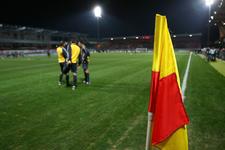 The match between Concarneau and OL in the Coupe de France which was scheduled for Saturday night in Guingamp has been postponed. The pitch at the Roudourou frozen, the delegates preferred to focus on the safety of the players . The date of the replay is not yet known.
Abdel Rédissi, (Club physio) talks about the postponement of the encounter.

Do you agree that it was not possible to play the match tonight?
Medically speaking it would have been dangerous. I spoke with the Doctor (Emmanuel Orhant) and to have played the gaem would really have taken a risk and we could have ended up with more injured players.

Did the players want it to go ahead?
They always want to play. A postponed match is another gap you have to find in the schedule. Everyone had prepared for the match so they obviously wanted to get out there and play. However, we have to think first and foremost of their health and their physical integrity.