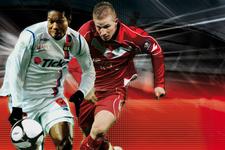 With eight matches to play in 27 days, November was by far the busiest month since the start of the 2008-2009 season.
OL...
OL's final record of 5 wins, 1 draw and 2 defeats is satisfying even if their elimination from the Coupe de la Ligue at Gerland against Metz, will be the biggest disappointment of November. Apart from this set back, or the draw against Valenciennes at Gerland on a waterlogged pitch, OL had been able to win the important matches, against Bordeaux in the League and away to Fiorentina in the Champions League. One allowed OL to put distance between themselves and a direct opponent for the title, the other to qualify for the last 16 of the Champions League. That's what you call a prolific month!

International Football …
On the 2 of June 1979 at Hampden Park, Diego Maradona scored his first goal for Argentina against Scotland (3-1). Nearly 30 years later, on Wednesday the 19th of November, « El Pibe de oro » was back in Glasgow, but this time around as the coach of the National side. An incredible player, Maradona wasd more in the news after his retirement because of his mischief. Nobody imagined Diegito coming back. Today he is in charge of the National side, but until when? Maradona see's himself once again picking up the World Cup in 2012 in South Africa.

[IMG43603#L]News…
On the 4th of November 2008, Barack Obama, the Democrat candidate was elected President of the United States of America. He finished well ahead of his opponent John McCain. Obama, 47 years old, becomes the 44th resident of the United States of America, the first « Black » to move into the White House. This day wil go down in history for the USA, a country where just 50 years earlier Afro-americans were not allowed to vote. Barack Obama, who will take uip his post on the 20th of January, inherits an incredibly difficult economic situation. His task lokos to be very complicated.