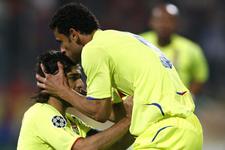 An international month of October....a trip to Romania for OL...to Argentina with Diego Maradona...and an encounter at the Stade de France which started a debate...
OL
On the 21st of October, OL play their third Champions League match. In Bucharest, the French champions finally win 5-3 thanks to two goals from Fred and Benzema and a goal from Keita after going 2-0 and 3-1 down. 90 minutes which were inconsistent, incredible, made magic by Benzema and Juninho, without forgetting that Lyon made things difficult for themselves by conceding three goals from the « air » after some terrible mistakes. OL finish the fiirst round of matches with 5 points and have all their chances of making it through to the last 16 of the competition.

[IMG43602#L]International Football
How can we not speak about the nomination of Diego Maradona at the head of the Argentinean national side on the 29th of October. « El Pibe de Oro » is back in the spotlight replacing Basile. He started off his reign with a 1-0 win in Scotland on the 20th of November. Born on the 20th of October 1960, « Dieguito » wore the jerseys of Boca Juniors, Barcelona, Naples and Sevilla before ending his career in 1997. World Champion in 1986, finalist in 1990; 91 caps (34 goals). Champion of Italy, Argentina ; UEFA Cup … Spanish and Italian Cup winner … he was elected player of the century. He was also the subject of a number of scandals and his health has often been a cause for concern.

Event
It is linked with football. On the occasion of the France – Tunisia match, on the 14th of October at the Stade de France, the Marseillaise performed by Lââm is whistled from start to finish. This lack of respect will arouse a number of reactions, most notably from the political world. Among the proposed solutions were the cancellation of the match or to move the National teams matches away from Paris. At the end of the day the affair died down … Just for the record, it was not the first time that the national anthem was whistled.