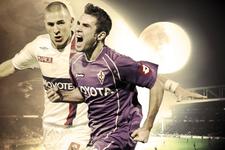 The month of September was marked by Lyon taking control in the Ligue 1.
Thanks to their victory over Nice in Week 5 (3 – 2), Lyon manage to take first place in the League from an OM side that found it difficult to get their machine going again after the international break. But Claude Puel's players do not leave it at that; they take advantage of their trip to Le Havre (1 – 0) and the home game against Nancy (2 – 1) to build up a lead over their opponents: on the evening of Week 7 the seven times French champions possess a 5 point lead over the second placed team Toulouse, and can calmly concentrate on the Champions League where, during the month of September, they took two points from two matches, against Fiorentina (2 – 2) and Bayern Munich (1 – 1).

[IMG43601#L]On the 6th of September, at the Ernst-Happel stadium, the French national side suffered one of the most spectacular defeats of their history (3-1) at the hands of an Austria who were classed 101st in the FIFA rankings. More than the defeat, due in general to their incapacity to solve their problems from set pieces, it is the downward spiral which France seem to be in which has put their coach, Raymond Domenech, on an ejector seat. Four days later, the victory against Serbia (2 – 1) gives them short respite. One idea does come out of a stressful evening at the Stade de France: that of starting with Yoann Gourcuff as playmaker.

On the same day, the 13th Paralympic Games open in Beijing. Over 11 days, 4200 handicapped athletes from 148 countries take part. At home, China lead the medals table by a long way with 211 medals won. The native of Lyon, Christophe Durant, does particularly well, winning two medals in the table tennis competition (gold in the individual and bronze in the team competition).