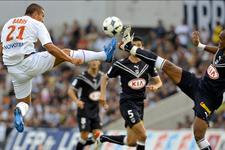 In August, the Champions Trophy left the banks of the Rhône. For the first time since 2001, OL failed to win this title: quite the event!
Lyon had won the last six editions. The match would be played at the Stade Chaban Delmas. Lyon were up against last season's runner-up Bordeaux, due to the fact that OL had done the Double.
Bordeaux wanted to show to French football that they were Lyon's most serious rival this year. A lot of holidaymakers were present at the match. OL would be dangerous on one occasion only, through Benzema. At the end of the 90 minutes, there is no extra time in this competition, the penalty shoot out started. Lyon are clumsy and Bordeaux a lot more realistic, beating OL without any contestation. At the dawn of the 2008/2009 season, Olympique Lyonnais trip up for the first time. Bordeaux succeeded in doing what no other team in France had managed beforehand in the inaugural match of the season.
It is also impossible to forget the other major event of August. For the first time since the 1960/1961 season, Lyon played two derbies in the same month.
[IMG43600#R]In football, Argentina beat Nigeria 1-0 in the final of the Olympic competition. With this victory, Argentina retain the title they won four years earlier in Greece, in the Argentinean squad there was a certain Delgado. In the quarter-final, Argentina knocked out their eternal rivals: Brazil.
The main talking point, however, was the record in the 100m, which was blown away by the Jamaican Ussein Bolt in 9.69 seconds.

In France, the Dalaï-Lama makes a « spiritual visit ». He is received behind closed doors at the Senate. He met a number of French personalities including the wife of the President of the Republic Carla Bruni, at the opening of a new Buddhist temple in the Hérault department. But French news would be marked by the death of 10 soldiers in Afghanistan. The soldiers were ambushed while they were on a surveillance mission in the country.