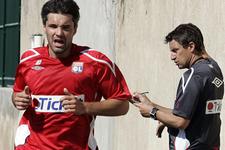 It's back to training at Tola-Vologe. On the 1st of July, the French champions get their boots back on for the preparations for the 2008-2009 season. Alain Perrin is no longer manager of OL, now is the time for Lyon Claude Puel style.
The holidays are over. The seventh title is now in the past. Everything is back to zero. OL are getting ready for a new season. Claude Puel has replaced Alain Perrin as manager. Everyone will get to know each other during the pre-season training camp at Tignes. 25 players take part in the trip. Only the international players who took part in the European Championships in Austria and Switzerland are missing.
« The work load is heavy but important for the rest of the season » announces Claude Puel during his first press conference, « It is a tough training camp, but the players are here to build themselves up for the long season. »

This training camp in Tignes is also the perfect setting for the new recruits to meet the rest of the squad: « I like hanging around with Kader Keita, he makes everyone laugh » assures Miralem Pjanic who, along with Ederson and Lloris, is one of the new faces at the start of the season.

The first round of friendly matches takes place just after the end of the camp: OL find it tough going against Nîmes. They still manage to win 3-2 with goals from Juninho, Tafer and Mounier. Yanis Tafer, a youngster from the training academy, manages to net again the following week in the 2-1 defeat to Rapid Bucarest in Romania.
[IMG43599#R]The first real test takes place in Belgrade: the international players are available to Claude Puel for the first time and OL win 3-1 with ease on the Partizan pitch thanks to goals from Sidney Govou and Karim Benzema. The last two friendly matches bring the first dark clouds to the OL horizon: At Villefranche/Saône, OL beat Nancy 3-0 (Juninho, Pied, Tafer) but lose their midfielder Fabio Santos, who took a knock to the head, then in Nancy, the French champions lose their final pre-season match to AS Monaco with the goal coming from Licata. July winds up with another training camp at Divonne-les-Bains. It's time to get back to competitive business …

July is also the month of the transfer market, where the different clubs actively prepare the new season. July, the first departures on holiday. The departures are made under a cloud: the crisis is building and the price of petro lis rising.