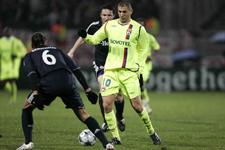 Reactions from the OL camp after the defeat to Bayern Munich.
Jean-Michel Aulas
There were two matches within the match and we maybe lacked a certain amount of luck. It's clear that the lack of experience at certain important posts, in particular up against Franck Ribéry who was outstanding this evening, made all the difference. When you are up against Franck Ribéry you cannot make a single mistake. You need to be extremely rigourous and need som eluck. We didn't have much, as when you look at the stats we have nothing reproach the players about. We were just missing a bit of luck and efficiency this evening. We really wanted at least a draw as that would have permitted us to remain unbeaten in the Champion's League which would have been good for our confidence. There are some regrets as I believe we deserved more than the 2-3 final result.

Jean-Alain Boumsong
I don't want to stigmatize the mistakes. There were some tonight, but that happens. I don't want to dwell on the negative aspects, just focus on our second half performance which was very good and shows that we can react. When you are 0-3 down at home, you have to get on with things. What could be worse? You have to try and play and enjoy it, even if it is difficult. We were up against a Bayern side who showed a level of maturity that we should aspire to in our next few matches. In the first half they did not just attack willy-nilly, tactically they were in place and they played together. I want to be positive and say that we will use this type of match in order to progress. We have to learn from our mistakes. That's my philosophy. Nothing happens for nothing, what happens will happen and we have to move forward with that in mind.

Fabio Grosso
We wanted to start off well. It's difficult to say but we did. We could have opened the scoring. Afterwards we conceded three and things got more complicated. At half time, we said to each other that we could do better. But as we always say, we will take the positives from the match.

Ederson
Tonight Bayern were a bit more lucky than us, notably for their first goal. They hurt us but we kept on pushing and tried to create opportunities. It just didn't want to go in. I lanaged to hit the post again! We have to keep trying and it will go in. We have to be more solid if we want to go as far as we can and be more efficient in front of goal. There are some regrets as we scored twice in the second half and had chnaces to equalise. It gives us something to build on as we saw that we were capable of pulling back.

Claude Puel
It's strange as we started off well enough, we had the first chances and then we were punished by three shots. Three shots on target and three goals. That hurt us as we didn't feel that we had messed up our start to the match. In the last fifteen minutes of the first half we were all over the place. We came back in the second half with more structure and ambition. We felt that we had to win this second half. We pushed, we showed a lot of good things, even in the first half, I'm not disappointed. We put in a lot of hard work tonight.