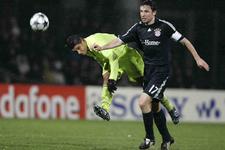 OL, beaten at home by Bayern Munich (2-3), finish up the group stage of the Champions League in second place of the Group F and will be up against a side that finished top of their group in the last 16. OL can maybe regret the fact that they woke up a little too late.
One match, two halves . Outplayed by Bayern in the first, OL lifted their level of play in the second half, without, however, being able to equalise. Claude Puel's men seem to be taken over by something when they play in Europe with their fluorescent shirts. A side of their game that they have had trouble showing in the League recently. At the kickoff, what was at stake was plain to all involved: first place in Group F. More than a points total, the two sides had the stature and a legitimate right to try and make it. Bayern deserved it. We often wondered how OL would make it to the last 16, and maybe even further, first or second spot. It finished up being in second spot . Lyon will have to play the return leg of their last sixteen game away from home, a situation that isn't generally favourable when you look at statisics. OL can start dreaming though if they look at the 2004/2005 edition, when Liverpool were crowned Champions after finishing second in their group
. After originally worrying that snow may have become an unwanted guest, the game kicked off under light rain. Apart from the notable absences of Lucio and Zé Roberto, Jürgen Klinsmann put out his best available side on the new pitch at Gerland. Lyon, still without numerous injured players, without the suspended Juninho and Cris, were able to welcome back Benzema up front. Mounier started the game out on the left flank.
Lyon were not slow in openong the proceedings. As early as the 2nd minute, a lovely pass from Benzema found out Ederson whose header was pushed away by the chest of Rensing. Over the course of the first fifteen minutes, OL's attackingefforts mostly came from down their left hand side, Mounier, Ederson and Benzema managing to link up well. A couple of world class passing movements, started off by Ribéry (6') or Lahm (8') tempered OL's start to the match and reminded them that they were up against Bayern after all. Bavarian efficiency was soon shown: inevitably it was Klose, who profited from a mix up in the OL defence to open the scoring (0-1, 12'). OL didn't need much more to wake up and Mounier, unstoppable down the left, pulled back a sublime pass for Benzema who was only able to hit the side netting of Rensing's goal (13'). Bayern waited patiently. After breaking through the OL defence and into the penalty area, Ribéry fired in a great solo effort which allowed Bayern to extend their lead (0-2, 35'). As if they needed to be behind to react, Ederson hit the post with a superb shot (36'). But it seemed that history was going to repeat itself, the opposite way around this time, Klose, unmarked at the back post fired in his second goal of the evening (0-3, 38').

Bayern continued their form in the second half. A great run by Ribéry and a set of passes with Schweinsteiger almost worked out. But Lyon hadn't given up. And as if he had been chosen by the Gods to make life difficult for the Bavarians at Gerland, it was the captain of the evening, Sydney Govou, who suddenly breathed life back into the match, when he fired the ball home into an empty net after picking when Rensing pushed away a Benzema effort (1-3, 52'). The real perfume of Europe seemed suddenly to pervade from the bowels of Gerland. A backheel from Ederson was easily picked up by Rensing (57'). OL seemed to have taken the upper hand. The entries of Fred and Källström (63') brought a new dynamic to the game. The ground was euphoric when Benzema dribbled around Rensing and fired home (2-3, 68'). A header from Fred after a cross from Grosso brought everyone to the edge of their seats, but Rensing made an outstanding save on his line.

Bayern deserved their victory with the first half performance that was put in, they also managed to hold onto their victory in the second half while OL counted on a reaction for their final European game of the year. German realism once again won out. The three goals scored before the break allowing them to finish top of the group with OL in second place.
OL's performance in the second half can give them hope for their future in the competition next Spring. One would hope that we will see, with the return if the senior players, a reinvigorated side. OL will find out their opponents for the final 16 game on the 19th of December after the draw in Nyon.