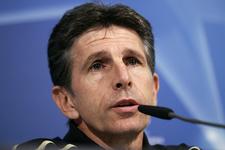 Claude Puel and Sydney Govou fronted up to the press ahead of OL-Bayern.
Claude Puel

How will you deal with the absence of Juninho? Who is going to take the free-kicks?
We'll see. We have a number of possibilities, even if they aren't as good as Juninho. We have players such as Delgado, Källström, Mounier , Ederson and Grosso who are all capable of taking free-kicks and corners. We worked well on them this week in training. Having said that, I'm not convinced that's where this game will be won or lost.

Is the fact that you're first in the group going to have an effect on your tactics?
European matches are always very high quality, very fast. Since the start of the competition, we've been playing well. Each time we've been up for it. Tomorrow won't be any different. Bayern are a team that likes playing football, a team that likes to attack. So I don't think this will finish scoreless.

Bayern are coming off a series of wins... can you break that run?
We have all the ingredients we need to stop this Bayern side. Away, we pushed them hard at their ground in the first leg. Tomorrow we'll be playing at our ground, in front of our supporters. It's good to be playing this 'finale' at the Stade Gerland. I don't think either side will settle for anything other than a win.

Sydney Govou

How are you approaching this match?
It's the final group match. For the moment we're first. We have a slight advantage. But I'm not sure it would be wise to sit back and look for the draw. It's never easy to play for a 0-0. That would be a mistake on our part. At the same time, a draw could prove important for the rest of the competition.

Agaisnt you tomorrow will be a certain Franck Ribéry... What do you think if him?
He's a player I really like, a really quality player. More than just his experience, he thinks on the field. He can analyse the game very quickly and he is everywhere on the pitch. When he's 100 per cent fit, he's very, very dangerous.