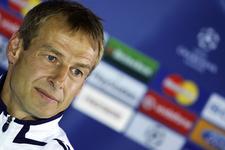 Franck Ribéry, Marc Van Bommel and Jürgen Klinsmann answered the media's questions during Bayern Munich's press conference on the eve of their match against Lyon...
Marc Van Bommel (Bayern Munich midfielder and captain)

How are you approaching tomorrow night's match?
Lyon for me, evokes first and foremost a defeat a few years ago, Bayern lost 0-3 but I wasn't in the team then. Obviously tomorrow we hope to win, but a 1-1 would also suffice.

What do you think of this OL team?
OL is a good team. It's not for nothing that they're seven times champions. OL always have excellent players. We know that it won't be easy tomorrow but we'll be trying to win to finish first in the group. I think it's a shame that Juninho and Cris won't be playing. They are two very good players. We'd have liked to play against the very best team possible so as to avoid people saying that we didn't beat a full-strength team. I really like Juninho.

Franck Ribéry (Bayern Munich midfielder)

Nobody at Bayern knows OL as well as you... Do you think a draw against OL is possible for you?
We're here with plenty of desire. We want to play well tomorrow night. If we can get all three points, that would be good for Bayern. But a draw could also be good for both teams.

Do you think you have a psychological advantage over OL in terms of the teams current form?
It's true that Lyon are struggling a little bit at the moment. But I know this team very well. They are always up for the big matches. Unfortunately, they have players injured and supended for tomorrow's game. We have to stay focussed and play well.

Jürgen Klinsmann (Bayern Munich coach)

What is your team's goal for the match against OL?
We want to finish top of our group. That's why we're taking this match very seriously and staying very focussed. We hope that tomorrow, we get the win, or at least a draw which sees in a good position for the last-16.

How important is Ribéry for your side's chances of getting a good result?
He plays a very important role in the team. Since he returned from injury, and he's gotten fit, it's no coincidence that our results have improved. Franck Ribéry is a very motivated player, capable of influencing the other players and he's also very creative. And all of that has a positive effect on the squad.