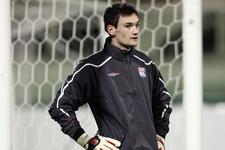 This afternoon, Lyon 'keeper Hugo Lloris fronted up to the press after his side's loss to Nantes and ahead of the match against Bayern.
You're coming off a loss to Nantes. Is it quickly forgotten ahead of a match in another competition or are you still thinking about it?
Losses are all part of football. We've already turned our attentions towards another big match on Wednesday. It's great and exciting to be able to look straight towards another game with different objectives. Obviously you do take a knock after a match like that. Leading 1-0 we were in control of the situation, but it's true we have things to fix. Losing the way we did certainly filled us with some regrets. As for the refereeing – that's also part of the game, whether there are mistakes or not, it doesn't change anything. What's sure is that we were in control and should have scored that second goal – we have to create more chances and be more aggressive in front of goal. We were penalised last weekend. Defensively we were good, Nantes didn't have a single chance at the end of the match, we lost 2-1. Perhaps the loss forces us to have a good look at ourselves.

OL appears to play better in the Champions League. Do you agree?
Yes. You can't compare a match against Nantes with a Champions League game. You can't afford to do the minimum against Nantes. The teams that play us are 200 per cent up for it and sit back to hit us on the counterattack. Any mistake is penalised. We have to lift our game. Everyone is focussed for the Champions League. It's true that it's easier to prepare for a Champions League game, than a domestic match.

How do you explain this change in attitude during a match?
If I could explain it, we'd be even better. Honestly I don't know. You can't afford to take you foot off the gas like that. You have to avoid that, always be at 200 per cent. Whether it be in the Champions League or Ligue 1 – it's the same thing. It's often little things, like the start of a game or a lack of aggressiveness. But several little things can turn a match in favour of your opponents. I think we'll improve over the course of the season. Marseille are now just three points behind us. But we have a quality squad with plenty of competitors so I'm not that worried.