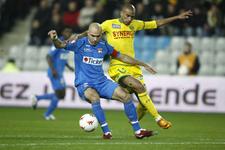 Reactions from the OL camp after the defeat at the hands of Nantes.
Jean II Makoun
Our first half was perfect and we managed to get a goal ahead. Then in the second half things turned around very quickly. Maybe, mentally, we just let go. We've dropped points tonight and it's very frustrating. The other sides are moving forward, but we have to keep in mind that we are still leaders. We have to keep on working in order to finish of the year well. It's up to us to stay strong.

Frédéric Piquionne
That's just football! We came to win but ended up losing the match. We'll have to make up these lost points as quickly as possible. I really cannot say if it was a penalty at the end of the match. Things could have gone our way if we had been given a penalty but that's just how things go. I felt a slight pain in the second half. According to the medical staff it's probably a strain.

Claude Puel
We started well enough, even if we created few chances we were in complete control. In the second half we lost track and allowed Nantes back into the match. I'm not going to comment on the referee's decisions, everyone will see the footage. We had to take 3 points tonight, we're frustrated and it is really a shame. We'll deal with it, hopefully we'll get our injured players back as soon as possible, we will adapt.