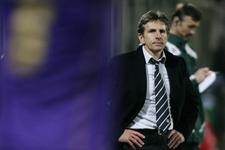 The change of date of the match against Nantes was the order of the day.
Claude, a word on the injury situation ?
« Pjanic, Réveillère, Clerc, Bodmer and Benzema are out for Saturday's game. Toulalan, we'll have to see. Fabio Santos should be available. Benzema fit for Bayern? I don't know. Right now I'd say he'll be ready for the game against Marseille. Wednesday will be a bit tight … we'll see. We have to be careful. His injury concerns the muscles he uses to shoot with. He's taken advantage to do a lot of fitness work, it's good for him ».

Are you pleased that the time of the game against Nantes was changed ?
« Of course. It seems logical to move it forward, it's a bit normal. We'll be able to go into the game against Bayern a lot fresher than would have been the case. It would have been difficult with the way things were originally programmed. We were prepared though, we had even cancelled the training session on Wednesday afternoon in anticipation ».

Which game is more important, Nantes or Bayern ?
« We're looking at the week as a whole. A week with three games Nantes, Bayern and OM. It's the most important week before the winter break, especially as we have dropped points along the way in the League. It's not easy to play match after match and to jump from one competition to another. There are players in the squad who had little or no experience of this. It's something you learn. We've had difficulties but are progressing. »

Is it possible that you start the game against Nantes with the defence that will play against Bayern ?
« It's a possibility. Circumstances will influence my decisions. You have to keep an eye on how much time players have put in as well. When the squad or an individual player hasn't played for quite a while it's not good. There is a mental break, ideally we should play every five days ».

What do you think about the fact that there are so many teams close together, points wise, in the League ?
« It doesn't bother me that there are a lot of clubs hunting us. They have to fight things out between themselves first. The League is a lot more difficult this year, there is less of a gap between the clubs. Not one team will walk away with the title without an effort, they will have to be consistent. Rennes have been since the start of the season, they are definitely an outsider for the title ».

What do you have to say about your side, in general ?
« I'm satisfied, but know that we can do better. That's good enough for me. We have performed better in the Champions League than in some of our League games. Individually and as a group the side has progressed and they can still do even more so. We have to finish of the year well before thinking any further ahead. Apart from Anthony, we'll be able to get our injured players back. After that, the aim is to be ready for the final run-in ».