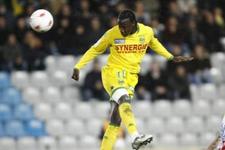 After a season in League 2, Nantes won promotion to a League 1 that they had not left over the course of 44 years, from 1963-1964 to 2006-2007. This is the return of one of the most titled clubs in France...but they have not beaten OL at home in quite a while...
8 times French Champions, 3 times winners of the Coupe de France, 2 Champions Trophies … a style of play « à la nantaise » used for decades … a list of great players … legendary managers … FC Nantes is an integral part of the history of French football . The club was promoted this season, after 12 months of purgatory and the « Canaries » are now up against an OL side that succeeded them at the summit of the League 1 in 2002.

5 managers over the course of 41 seasons (Arribas, Vincent, Suaudeau, Blazevic, Denouaix), from 1960 to 2001... and a total of 6 others since then! The last few visits of OL to the Beaujoire are not happy memories for Nantes. A defeat in the 2006-2007 season (3-1), in the 2005-2006 season (1-0, goal scored by Fred and an outstanding performance from Coupet) ; a draw in the 2004-2005 season (2-2) and a defeat in the 2003-2004 season (1-0). You have to go back to the 2002-2003 season, the 14th opf September 2002 to be exact, to find a Nantes win (1-0, goal from Vahirua) ; Toulalan played in this match receiving a yellow card, that Lyon had to finish with 10 men after the sending off of Diarra. Let us not forget the qualification for the last 16 of the Coupe de la Ligue, on the 25th of October 2005 ; the match finished 1-1, OL going through on penalties (4/3). Toulalan was still a Nantes player at the time.

A number of players in the actual squad , have already played against OL in the past. Guillon, Bagayoko, Da Rocha, Keserü were already Nantes players in the 2004-2005 season. Heurtebis, Capoue, Guillon, Pierre, in 2005-2006.

Even if Ricardo Faty arrived this season at the Beaujoire, he played against OL in the Champions League for AS Roma during the 2006-2007 season. He played a total of 10 minutes during the Roma victory at Gerland in the return leg of the last 16 of the competition.

And Ivan Klasnic, was part of the Werder Bremen side that was thrashed 7-2 in the last 16 Champions League return leg on the 8th of March 2005.

Finally, Da Rocha has spent his entire career at Nantes: 364 matches in the League 1 and 26 in League 2. Frédéric was born on the 16th of September 1974.