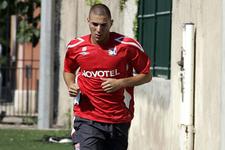 The first training session of the week went off in great spirits, this afternoon, at Tola Vologe.
With the sun setting in the background and the winter temperature dropping, the OL squad started their training session with a number of laps of the pitch, they were split into three different groups, each running at different speeds. Robert Duverne had also concocted a number of physical exercises.
Karim Benzema was also able to run, by himself, at a moderate ryhthm. The Lyon forward is still suffering from pain in his right thigh. As is habitual, Claude Puel took part in the session alongside his players.
The tactical work of the session, an 11 against 11, went ahead with 4 goals spread out along the touchlines of the training field. The squad was able to work on their passing as well as using the width and the length of the pitch (with 1 touch only). All this went down in a very relaxed atmosphere, that saw some scenes of great joy!