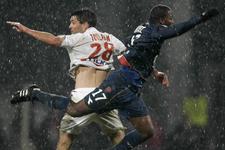 All the reactions from the OL camp after the match against Valenciennes.
Jean-Michel Aulas
It was a very difficult match. On one hand we had to attack, and it is always difficult to attack and defend on a pitch which was in no way in a playable state. On the other hand, we had put in a very tiring performance on Tuesday, in Florence, with a late return to Lyon. We weren't given the best possible conditions for the preparation of this match, but it seems to be how things are at the moment. All the merit goes to the players, the coach and the staff.

Hugo Lloris
In such conditions, it's not easy for goalkeeper. You have to be doubly vigilant and remain as focused as possible as the ball is much more diificult to contro. It was easier to play in the first half. In the second half, it was much more « kick and rush ». Afterwards, we had a few chances but Nicolas Penneteau really played well and kept them in the match, especially towards the end. I really though the match would be called off at half time, but we kept on going. I think we deserved all three points tonight. We managed to create a lot of chances, which is a good thing.

Ederson
We started the match well, physically we were strong. The conditions were difficult for both teams. Wheb the pitch is heavy like that you have to put in a lot more efforts. What is good is that all the players came out of the match unscathed. Thta's a good thing for the future. We took a point today, there will be better matches in the future. We managed to create a lot of chances and get into some good positions, but the ball just wouldn't go in. We have to keep on working and it will come. I still have my disallowed goal in mind, the referee whistled, I'm not going to say anything else about it. It's a shame as we could have won, and I still haven't scored! The playing conditions? It has rained during a few recent games. It makes it difficult to play good football, but we are ready for anything. We have many challenges and we have to go into them giving the best of ourselves.

Fred
Quite frankly, I though the match was going to be called off in the second half as it was so difficult to play. You would have thought we were playing on the sand at the Copa Cabana. Penneteau played really well, and that's just how things go sometimes. There will be other days when we play matches like that. We just have to lift our heads and start thinking about the match against Nantes.

Claude Puel
The pitch was not in a playable condition,it was impossible to play the kind of football we want to play. It's a shame, we dropped to points tonight and we never really had the possibility of getting into a position which would have seen us win the game. It would have been good to take all three points tonight. We started the match well enough, but then the conditions just got worse and worse. We weren't able to adapt and kept trying to play a short passing game, but the ball just kept stopping. We had to keep a hold on the ball too much, and on two counter attacks Hugo Lloris really saved us. In the second half there was nothing that I could reproach my players for as they did all they could. We set ourselves up to play long balls and go into spaces. We almost scored, we lacked a little bit of success and maybe a worse opposition keeper wouldn't have kept us out. Both sets of players were intelligent enough to not get themselves into positions where they could contract injuries. Now, we have a whole week to recuperate, which is good as the players are very tired. They put in a lot of efforts tonight as, even if playing real football was impossible, they had to put in a lot of physical efforts. Our defence was solid and Hugo Lloris has also been in great form since the start of the season. Our side play as a solid block and they keep moving forward. It's a shame as were quite frustrated tonight. We just feel that we weren't able to play as we can, which would have allowed us to take all three points tonight. We're just going to forget all about this match and move on because there really isn't anything else to say.