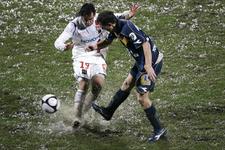 A boring 0-0 draw and a match unable to spark into life due to the torrential that fell throughout the 90 minutes finished off the of 12 matches in 6 weeks for OL. It is difficult to draw any conclusions after such an evening.
The God's were not on OL's side going into this match. Having to deal with a full treatment room, a suspended captain, their top goalscorer out injured and torrential rain which turned up at the last moment just to annoy players and supporters, conditions did not favourable. Claude Puel had to put out a slightly modified starting eleven. Fred started on his own up front and Mensah, once again, at right back. A banner in the north stand read « Hold on Antho ». A nice gesture for Réveillère, who will not play again this season following the injury to his left knee, suffered at the Parc des Princes last Saturday.
The match kicked off under torrential rain on a pitch that was incredibly tricky for both teams. During the first ten minutes, a header from Fred then a free-kick from Ederson were bothed picked out of the air by Penneteau. Ederson showed all of his desire all the way through the first half. Looking in great form, he tried his luck on a number of occasions (11', 13'). But very quickly, and while OL were in control of the game, it seemed that we were going to go through the kind of situation that has happened too often when Audel, having raced past Boumsong, came up alone against Lloris, but the keeper was able to save (15'). Then Fred, beautifully played in by Ederson, was stopped by Penneteau (16'). The Valenciennes defence was holding up well and their keeper saved easily from a Govou volley, following some great work by Grosso (20'). The rain started falling with a lot more insistence midway through the first half, making life a lot more difficult for the two sides and worsening the state of the pitch. A run and cross from Ederson found nobody and a header from Keita went over (34' and 35'). At the end of the half, Lloris punched away a free-kick (45') sending a dominating, but ultimately sterile, OL side to the changing rooms.
The players came back for a second half on a pitch that was practically unplayable. Passing was virtually impossible and it seemed that deliverance was only going to come from a set piece. A free-kick from Fred (50') was easily stopped by Penneteau. Then a missile fired in by Ederson grazed the Valenciennes upright, following a corner by Grosso (52'). At the end of the day, the ball with its behaviour being dictated by the soaked ground, could decide the outcome of the game all by itself at any moment. The rain had eased up a little, when an Ederson goal was disallowed for a foul on Abardonado by the Brazilian during the build up (60'). The final fifteen minutes was played out in the same manner as the rest of the match: OL attacking, but seeing all their efforts stopped by a foot, a back or the excellent Penneteau, and their opponents countering when possible. The Valenciennes keeper magnificently pushed away a superb volley from Fred. Delgado hit the last effort of the game, once again Penneteau turned the ball away. And the rain stopped …

What conclusions can be taken from the game, apart from the fact that it is difficult to play football? We saw a solid man-marking Cris, Ederson who had the chance to put on show all of his talent. At the end of the day, Valenciennes go home with a very precious point, obtained by the great performance put in by their keeper Nicolas Penneteau. It's not easy to speculate on the League table either, Nice, in second behind Lyon, did not play this evening (match against Grenoble stopped because of the torrential rain) and Marseille play tomorrow. And now? Lyon go into a week during which they will be abe to rest more than they have done in recent times. The seven times champions travel to Nantes next Sunday, for a match against another poorly placed side. The OL players will be able to relax and recuperate. In Lyon, recently, that's all that had been asked for.

League results (before the rest of the matches, to be played tomorrow): Lyon-VA (0-0); Lille – Lorient (1-1); Le Mans – Caen (2-0); Auxerre – Monaco (0-1); Le Havre – Nantes (0-2); Sochaux – Bordeaux (21h00). Tomorrow: Nice – Grenoble ; Toulouse – Marseille ; Nancy – Saint-Etienne ; Rennes – PSG.