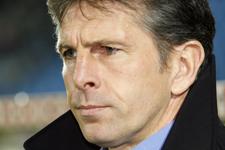 How are you preparing for your return to the League?
We know what happens before and after matches in the Champions League. It's one of the things that we have to improve. It's up to us to be able to play game after game, individually and collectively. As far as I'm concerned, great teams can turn themselves around in a short space of time, three or four days after a Champions League game. For that it's much better to be playing at home. What interests me is that my squad has a good attitude and gets back to the most important thing of our season, the League, which is our priority as it will allow us to play in the Champions League next season.

Has the qualification changed anything as far as the squad is concerned?
No, not really, apart from the fact that the squad is a lot more calm now. We are pleased to feel like our mission is accomplished, but it's only a stage and there will be others.

Are you thinking of recruiting a player, considering the injury crisis that the squad is going through?
I would have to find a good enough player, we would need someone capable of facing up to the tasks we have coming up. We're looking for a full-back. Is it really urgent? Everything depends on the opportunities that present themselves. What I am interested in is a player that will strengthen the squad, I'm very demanding as far as that is concerned.

What do you think about Valenciennes?
They can pose us a lot of problems as they never let go and they want to get out of the situation that they are in. They have drawn a lot of games or have lost by one goal, they are never « hammered ». In any case, I don't think we are going to have any easy matches this season. When team's play against us they give their all as it is the match of the season for them. Sometimes we are up to the challenge, sometimes we are physically tired. We have to prepare for and play each game in the same manner whether it be in the League or the Champions League, whatever the team facing us or the formation we use. It's an area where we need to progress, that includes all players, whether they played the previous game or not. This is going to be important this weekend. If everyone in the squad can be counted on, we can becme very strong in the long run. It's tough at the moment, we have players who have no time to rest with all the injuries we have. We have to be able to deal with all these situations. The match against Paris, for example, was all about the little details. At moments like that we need to be able to bounce back. We have to be able to look at our performances and question them after each match, the psychological preparation is very important, as games are often won in the head.