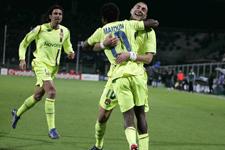 All the reactions from the Lyon camp after the victory in Florence and the qualification for the last 16 of the Champions League.
Jean-Michel Aulas
I'm very happy, just like all the supporters who were here, those who were watching on TV and those who weren't able to watch. Winning here against Fiorentina, is one of OL's greatest success's. They are a very strong side. The context of the match meant that they absolutely had to win. We managed, despite their strength, to put in an excellent match. Bravo to Claude Puel for putting a side out that could deal with them and to the players who were brilliant. I don't want to single anybody out but Benzema and Juninho showed all their class. Cris and the backbone of the team held their own. But really Karim and Juni won this qualification for us. People often say we haven't won anything on a European level, but qualifying 6 times in a row for the last 16 id maybe more significant than winning the trophy. We'll do all we can to go as far as possible. This performance is really quite something. When I see that we are on top of the League and unbeaten in the Champion's League and this despite a whole load of injuries, before the match against Bayern which will be decisive. It's going to be a great match. Tonight we saw a team in control from start to finish, we are always present when we need to be.

Jean II Makoun
We played well as a unit. We managed to recuperate and use the ball well, notably in the first half when we created quite a few chances. We were very efficient. My goal came from a good attacking movement and a great pass from Karim Benzema. I'm happy for me and for the team. We have to keep in mind the performance we put in here. I thought Fiorentina played really well and their forwards were very clever at keeping the ball and making intelligent runs. Technically they are very strong. Happily enough we regrouped well and were resilient. We took advantage of counter attacking opportunities, even if I think we could have even done a bit more. Nothing is finished, even if we have qualified, we want to be done with the group stage on a positive note at home and finishing first in the group.

Karim Benzema
I really enjoyed this match and I think the rest of the team did as well. We did as the coach asked us and played football without just sitting back defending. We played well and came here to get something out of the match, tonight we've shown that Lyon are a great side. The context was difficult as they had their supporters behind them and they really got stuck into us. We managed to stand up to the physical side of things. We've qualified and are very happy about it. Juni gave me the ball and I didn't think twice and just went for goal and thankfully it went in. I hope we can go a long way, our objective is to go further than the last 16. Right now we've qualified and that is fantastic. We'll be playing Bayern for the top spot. If we can continue with the same team spirit and frame of mind we can go a long way.

Claude Puel
Since the start of the season we wanted to progress individually and collectively. Tonight we put in a great performance against a very strong Fiorentina side. We were present in all areas, defensively, offensively, and in our control of the match. Bravo to all the players, they deserve it. I also have in mind Anthony Réveillère, François Clerc, Mathieu Bodmer, they are integral parts of the squad. They are qualified as well. Winning qualification away from home in this manner is fantastic. We now have one match left to go, Cris and Juninho are « tactically » suspended. We'll miss them for the game against Bayern. We have to keep going, we want to go further than the last 16 and will need to put ourselves in the best possible position by finishing top of the group. There will be less pressure on the two sides for this match as we are both qualified, but the match is nonetheless important.

Juninho
I had great fun tonight, even if the match was tough right from the start. We couldn't forget the first match against them, as it was Fiorentina who dominated us during the first half at Gerland. Straight away, I felt that the team had come out in the right frame of mind. Fiorentina have great forwards who caused us a lot of problems, but we all stood up to be counted. We managed to control the ball well, and I think that we could have done a little more maybe in the second half. We are a intelligent, resilient side. We really deserved to win tonight and are very happy that we did. Great sides have to consistently put in great performances. Our team is mature, our experience shows and we were resilient even when we were in great difficulty. We managed to stay calm, which is maybe a sign that we really are progressing. At the end of the day, the most important things is that we have qualified. That is the greatest victory.