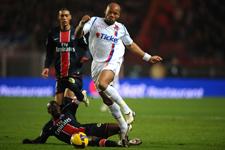 Reactions from the OL camp after the defeat at the hands of Paris Saint Germain.
Jean II Makoun
It was a bad night. We lose the match, picked up a red card and we have even more injured players now. It's a nuisance when you look at the fixture list we have in front of us. We came up against a very good Paris side. It was difficult for us, as they regrouped very quickly after losing possession. After they scored we found it very hard to find space or depth. We tried to break through their block in the second half, but at 10 against 11 it was very difficult. We've lost more players this evening, we can only count on ourselves in the future as nobody is going to do us any favours.

Claude Puel
We have a lot of important games with very little time to recuperate. We started the match well and created a number of chances but Paris, during their only good period which lasted a few minutes, succeeded in opening the scoring. Afterwards they tightened things up and things became complicated for us. We didn't give up, even when we went a man down. Our team spirit wasn't rewarded tonight. The players gave everything they had. We have to keep and use this spirit. Now we are focusing on a different competition. We'll have to wait and see who is available for the match against Fiorentina.