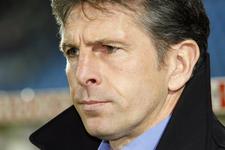 On Saturday at the Parc des Princes, OL will be playing their 10th match in 5 weeks, only three days before facing Fiorentina in Florence. After training, Claude Puel was particularly wound up about a situation he qualifies as "totally crazy".
Are you annoyed by the injuries picked up by your players on international duty?
Wouldn't you be? Some might say that it is part and parcel for a side that is solicited so much. What is more annoying is the succession of matches, even if it is less of a problem for Grosso as he was rested against Bordeaux. I don't think any coach would appreciate this succession of matches.

The Board of Olympique Lyonnais had asked for the match against PSG to be postponed. Would that have suited you?
If it had been accepted, I would gladly have taken it. But we just have to deal with it, even though things are a little tight and have been for a moment. If players are going off on international duty, then that means we have a good squad, but in the mean time Paris have been able to put in a good week of work. The main problem is that we're playing away from home against a side that has had more time to recuperate and prepare than we have. It's also the case in Europe where just about all the other sides have an extra day to recuperate, and therefore have more time to prepare: Fiorentina are playing on Saturday at 18h00. And before what could be considered as the "Final" in our group against Bayern Munich (December 10th), we have to play away to Nantes on the Sunday (December 7) at 21h00. It's totally crazy! Up until know we have dealt with things quite well and we have to keep doing so.

Are you angry with the LFP for not having protected those French clubs who are present in European competitions?
It's not about protecting, but things being normal. At one time, French clubs benefited from a little more protection but that just isn't the case anymore. Now it's all the other countries that are taking care of their clubs and we aren't doing anything anymore! Foreign federations are putting their clubs in the best possible conditions, all the better for them. I like a little bit of adversity, we go into these games with a slight handicap, it's ok, it just calls for the team to show its character. We've always stood up to be counted and will do again. All we need now is a drugs test after the game against Paris and we'll have had it all (laughs).

Do managers have a say in these matters?
These things should just be normal. Managers do not have the impression of been given the best possible working conditions. It's annoying when your own country's federation puts obstacles in your way. We just don't need that.

Do you think it is done on purpose?
I'm just stating facts and denouncing what is stupid. I won't go any further. Right now, we just have to forget about it all so that we can be ready for what is ahead. To do so we need to concentrate completely on recuperation. It has become our priority.

The 7 point lead that you have over Marseille, does it influence your team selections?
No, as I want us to be in good form for both matches. But I knew what was coming after the match against Bordeaux. If I said that the 7 point lead was nothing, it was because I knew exactly what we have to deal with up until the end of the year. It's going to be very tough.

What is your opinion on PSG?
At the moment, they are in form, very solid, very realistic, they are a team that can count on players like Giuly who has refound his form, or Hoarau up front, who is very altruistic, who creates a lot of work for defenders and brings a lot to his team.