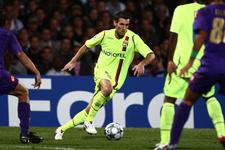 « France has the second largest population in the European Union. We are the third richest country and are fourth in the UEFA standings. But, we will lose this fourth place at the end of the season if we do not manage to do better than Germany, » declared Frédéric Thiriez, president of the League, the message is clear.

But if we are to rival Germany and keep this fourth place, do we not have to look after our clubs. Claude Puel and Jean-Michel Aulas have spoken put recently about the crazy fixture list that their players are faced with. Olympique de Marseille and PSG are also confronted with the same problems.

First observation, OM will play in England against Liverpool on Wednesday the 26th of November, their fifth group stage match in the Champions League. But on the Sunday before this match they will be playing against Lille at 21h00. On the other hand, the English side will be playing in the Saturday at 15h00. Because of this, Liverpool will benefit from 100 recuperation hours before playing an OM side that will only have had 70.

Second observation, PSG and the UEFA Cup: Paul Le Guen's side will be up against Manchester City on Wednesday the 3rd of December. Will they have had enough time to recuperate following their match away to Rennes on Sunday the 30th of November? Just like the Reds, the Citizens will play in the League on the Saturday at 15h00 and so just like the Reds will have 100 recuperation hours, or in other words 30 more than the Parisians.

Third observation, Olympique Lyonnais : « we just keep racking up games, we don't even have three days recuperation time before Champions League matches, » these words came from the mouth of Claude Puel who was speaking about the forthcoming match against Bayern Munich on Wednesday the 10th of December at Gerland. Before this encounter, Bayern will play their League match on Friday the 5th of December at 20h30 while OL will almost certainly have the honour of a prime time on Canal Plus, that's to say at 21h00 on the Sunday. The main consequence is that the German champions will have had 120 recuperation hours while OL wil only have had 70.

So, has everything been done to help our clubs rival their European opponents? Is it reasonable to impose such a rhythm on ours ides who are doing their utmost to defend the UEFA ranking of our country?

Are we not playing with our players physical integrity?
Shouldn't the national fixture list protect those French clubs who are playing in European competitions rather than penalise them in comparison to their future opponents? These questions need to be asked.