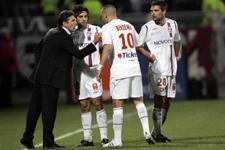 All the reactions from the OL camp after the victory against Bordeaux (2-1).
Cris
It was tough. We were up against a solid side that can play good football. I think the difference was our aggressivity, we were more than present in all the duels. That's why we scored twice in the first half. That made all the difference. We tried to play football, despite the state of the pitch. We defended more in the second half. What is important is that we took all three points. We have to keep working hard but I think we're doing well. We have some tough games coming up against Paris and Marseille. But if we play like we did tonight then, we'll be fine. We've had a lot of matches recently (9 in one month), now we're going to have a rest and spend some time with our families.

Fred
The most important thing is that we won. We're very happy to have taken all 3 points. Everything changed after Karim's goal, we had a lot of space even if we were under pressure during the first 25 minutes. Their start to the match surprised us, we didn't have too much of the ball and not a lot of space. But we played well tonight. I will be seeing Bernard Lacombe tomorrow. I'm very happy. I hope I will be staying here for many more successful years.

Jean-Michel Aulas
It was a top level game, it was right up there with the top 4 of the English league. The merit of taking all three points is all the greater as Bordeaux came here with top level intentions. They started of the game in great form. OL needed to be serene and technically strong as I think they were physically stronger than us and probably wanted to finally do away with a Lyon side that, over the last few years, as stopped them reaching the real top level. The first 30 minutes were difficult, but Bordeaux only managed to create one chance during this period of intense domination. We played well, even if we were a little overwhelmed by their speed and efforts at closing us down. You could see the strength of their intentions. The senior players managed to keep them at arms length. Everyone played really well. If we possessed just the talent but not the solidity of the group, we would not have beaten this Bordeaux side who came here to win. Matches of this quality allow us to stay in form in the League but also to prepare well for the match against Paris.

Lamine Gassama
I was delighted to start the game against Bordeaux. They are a great side. We knew it was going to be a difficult match but we defended together. On that front things went really well for us. It allowed us to win the game even though we didn't see much of the ball. Up front we had a few chances and we took them well. But we were expecting a match like that. We've made a break away in the League but it's not over yet. Even though we have a few points more than the others, we know we can be caught up with. We're going to do all we can to not drop anymore points.

Hugo Lloris
It was a tough game and we suffered a lot, but we remained very solid. That's the big positive that came out of the match. We managed to be efficient when we had to be and stayed solid at the back. I think everyone knuckled down and worked and even enjoyed defending the result tonight. Bordeaux are still a great side who play good football. They managed to spread the game out. We didn't start off very well but turned things around with the goal, afterwards we managed to control things. The great goal scored by Kim (Källström) really liberated us. We dropped back a little in the second half and therefore were under pressure throughout the half. It's a shame that we conceded this goal but the win is what counts. On the points side, it's a good operation but we cannot afford to slacken off as we have this lead now. We have to keep plodding on and take as many points as we can up until the break and a much needed rest.

Claude Puel
I think we managed the game well. We started off poorly, Bordeaux on the other hand were straight into the match and we couldn't match them. They really moved the ball around well. Hugo (Lloris) kept us in the match with a great save and then Karim Benzema turned things around with his goal. From then on we reorganised ourselves and managed the second half well. We avoided giving away chances. We could even have made things worse for them as we had chances to kill off the match. The organisational changes we made allowed us to have a lot more density in the midfield, which helped us out a lot. The players put in a lot of effort tonight. Hugo Lloris and Karim Benzema turned the game for us and the rest of the team played well to.
Bordeaux are a great side. It was good for us to get this result. We were at home, so it was important that we take all 3 points. Of the course the League campaign is not over yet, let's just say that we will be a little more serene going into the difficult games we have coming up. What is important is to be consistent over the course of the season. Now we are going to prepare for the next big game against Paris.
In the second half we let Bordeaux have the ball and played counter attacking football. We wanted to be in position in our half of the field and take all opportunities to counter them, which is what we did. It was up to them to play as they were down 2-0. We managed the second half well, even if we should have scored another goal. I think we deserved our victory.

Kim Källström
I shot a lot against Metz, but things didn't come off. The coach told me to shoot even more and this time it paid off. It was as good for me as for the rest of the team. We were expecting a fight and we got one. Bordeaux are a very difficult side to play against. They have a very good passing game. We didn't play too well, but put in a lot of effort and desire to win the game, we showed a lot of character. Tonight we were physically and mentally strong. Even if Bordeaux attacked a lot, we stayed solid and did not panic. We remained lucid right up to the final whistle.