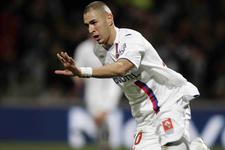 Despite been dominated by Bordeaux's possession of the ball, OL finally broke the deadlock through Karim Benzema after a great pass from Fred (33') then Kim Källström (38'). Cavenaghi reduced the lead (81') towards the end of the game, but OL held on to their precious victory.
This Lyon-Bordeaux is one of the big matches of the League season, as Bordeaux, just like OL, are serious candidates for the title. Claude Puel concocted a number of surprises in his team selection. Fabio Grosso started on the bench, Réveillère took place at left back and Gassama at right back. In attack, Fred and Karim Benzema were the partnership with Källström and Govou backing them up.

The encounter was expected to be tough and very disputed, but the start of the game was more like a combat. While the ball was rolling out of play, covered by Juninho, Fernando flew into the back of OL's number 8 and knocked him to the ground. Fernando picked up the first card of the match (5') but also fired in the first shot of the game two minutes later. Hugo Lloris watched the ball wide of his goal. Bordeaux procured the first real dangerous opportunity with Wendel shooting from out on the left, his shot was pushed away only as far as Chamakh who saw the ball taken away from him by a magnificent Boumsong tackle (10'). OL reacted with a free-kick from Juninho which was headed at goal by Sidney Govou at the near post but Valverde pulled off a stunning save (20'). Hugo Lloris, not to be outdone, pushed away in style a long range effort from Gourcuff (23'). OL at this point were severely dominated as far as possession was concerned. After a quickly taken throw-in, Karim Benzema slid the ball to Fred who played the ball perfectly back into his path. Benzema seemed to have pushed the ball a little too far forward but he managed to lift the ball out of the reach of Valverde (33'). Gerland was ecstatic! This goal liberated Claude Puel's men. Kim Källström picked up the ball and after moving out the left fired in a shot. The Swede's effort was slightly deflected and wrong-footed Valverde (38')! OL were now two goals to the good! Monsieur Layec whistled for half time with the score at a flattering 2-0 to Lyon.

Gourcuff was the first to spring into action in the second half, but his left foot effort went quite wide of the target (48'). After a flick-on by Chamkh, Wendel took his turn at shooting, this time the ball was just centimetres from the top corner of Lloris's goal (52'). Fred was played in on goal with a one touch pass, he held the ball up in the penalty area, but Juninho did not arrive in time to take advantage. Gourcuff tried his luck again, but was still unable to hit the target (61'). Claude Puel then decided to bring on Delgado in place of Fred (62'). OL's Argentinean found himself in a perfect shooting position after a pass from Källström but did not put enough power into his effort (71'). Karim Benzema with great anticipation picked up on a poor Diawara pass, before going past the Bordeaux defence and firing in an effort. Valverde punched the ball clear (77')! Juninho had just been replaced by Makoun when Wendel fired in a swerving free-kick which Cavenaghi put past Lloris from close range (81')! The final minutes of the match were very tense, Monsieur Layec relieving Gerland with the final whistle!

Lyon can celebrate this precious victory as it deserves. Thanks to these 3 points, OL now hold a 7 point lead over OM and 9 points over tonight's opponents, Bordeaux.