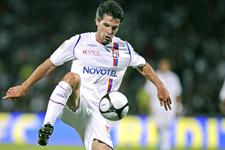 How did the squad feel after the elimination from the Coupe de la Ligue by Metz (1 – 3)?
We are disappointed, but our confidence has not been knocked as the cup and the League are two different competitions. In the League, our record is positive. On top of that, we're playing at Gerland, it will be up to us to play, to be careful of their counter attacks … and win.

What is your opinion of this Bordeaux side?
Bordeaux have a solid team, they play good football and have a younger side than they did last season. Bordeaux have been very clever and their recruitment was daring. Even if their start to the season was a little delicate, they are getting better and better. We've been warned, we know we will have to be vigilant. Up front they are really strong. With Cavenaghi, Chamakh, Bellion or Gourcuff, they have some great attacking players, but if we are focused and willing to give our all we should win this game.

Has the Champions Trophy game stayed in your minds (a Bordeaux victory on penalties)?
Yes, but it was a completely different competition, the context was different as well as our internationals had started pre-season after everyone else. Bordeaux were in a better physical state than we were, so this match will be different.

Do you feel that you still have an advantage over the chasing pack?
We've got four points (laughs). Our objective is to build up on our lead. We know that we have to win this game, but we are also aware that if we don't, it won't ruin all the work we have put in since the start of the season. There are 38 matches in the League campaign, we'll see how things turn out at the end.

What is your opinion of the meteoric rise of Yoann Gourcuff?
I'm happy because he's a Breton (Jérémy Toulalan was born in Nantes, Britanny), he's someone I know, he's a good guy. He learnt a lot in Milan. He is building up his confidence and experience. For the moment he is at the top but the toughest times are on the horizon for him, he'll have to confirm his status.

Benzema is said to be indispensable to OL at the moment. Would you agree if the same was said about you?
I agree that Benzema is indispensable, I'm not though. Important players are players who are decisive, something which I am not. We're not just here to make up numbers, don't get me wrong, but guys like Juni (Juninho) or Karim (Benzema) are players that can change matches at any moment. Today, and taking into consideration what he achieved last season, you can definitely say that Karim is indispensable. Juninho is a monument, I think he is the player that has had the most impact in the history of the club.

Matches against Bordeaux are often tense, with an electric atmosphere. Is that something you like?
They aren't as tense as the games against Saint-Etienne, but they remain big games, a little like the Champions League. Motivation comes easily for games like this; the coach doesn't have to say much to get us going. I thrive on this kind of pressure. It's strange, before I had a lot of trouble dealing with it. They are great games to play in but there are only 3 points up for grabs, so games against Sochaux or Lorient are just as important.