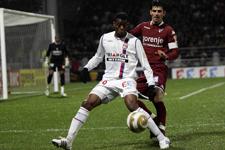 All the reactions from the OL camp after the defeat at the hands of Metz (3-1)
Jean-Michel Aulas
Metz were very good tonight and took good advantage of their counter attacking skills. They were able to play very quickly and put us in trouble on a number of occasions. It's true that the games are racking up and it's difficult, psychologically, to remotivate people. This came at a bad time, as we were in need of a confidence boost, we should never lose at home, even less so to a second division side. There is a lot of disappointment, as we know that we have lost more than a qualification for the Coupe de la Ligue which, in any case, was not essential for us. We have lost a lot of confidence, it's something that allows a squad to really show what they can do. If players do not have a lot of playing time and then do not seize the opportunity when it is given to them, things become more difficult. On one side, we lose the chance to take part in 3 or 4 matches which would allow us to play these squad members. Secondly, it creates a certain amount of doubt just before a very important League game. At 2-1, anything was possible. At 3-1, things became a lot more complicated, almost catastrophic as we could have conceded another couple of goals from counter attacks. It seemed that Metz were able to play much more quickly than Lyon. We have to take a look at everything around the players physical and mental states. We have to learn from this defeat, use it to prepare for Sunday's game. Great teams never lose twice in a row, but it's also true that it is difficult to win two games in a row as well. I hope we've been through the worst of it and that we will be able to turn things around for Sunday.

Frédéric Piquionne
2 – 0 down at half time, we thought we still had our chance. We managed to score from the corner but then going 3-1 down just took the wind out of our sails. We tried to give our all right up to the end, but Metz were just more realistic than us this evening. They put in a great perfromance. We didn't. We will have to pull ourselves together and rest before the huge game on Sunday at home. We're still taking each game as it comes, and after each one we have to take stock. We cannot afford to mess up the game against Bordeaux.

Sébastien Faure
It's really a big disappointment as this was my first match. It's difficult, there were individual and collective errors. It's the first disappointment of the season. At 1-2, I thought we could get back into it. But, they deserved their win, they put the ball in the back of the net when they needed to. They played well, they kept behind the ball and committed a lot of little fouls. We weren't able to accelerate at the right moments, we tried to create. They were waiting for us and hit us well with their counter attacks. It hurts but that's football. We know that we still have the League, Champions League and the Coupe de France to play for. We're going to try and win them all. Lamine Gassama and I communicated a lot during the match. I'm only 17 years old, I still have a lot to learn. I was really happy to start the game and we'll see where things go from here.

Fred
We knew that if we won three games we could be in the final, it was an important competition for us. Metz deserve their win, even if they did score against the run of play. The first goal hit us hard, and then they scored another. They shut up shop and did an awful lot of running, no they really deserve the win. It wasn't an easy evening for us. We just have to get on with things, now we are focused on Bordeaux, that's our objective. We have to win at home on Sunday. Bordeaux have a lot of tired players as well. We are completely focused on the match against Bordeaux, we have to forget all about tonight's defeat.

Claude Puel
It's disappointing, we just started the competition and it's already over. It always hurts when you are a competitor, like my players are, to be knocked out in the first round. Metz deserved their win, they put in a good performance. We didn't play too well at times, and very quickly we had to chase the match. Metz's win is logical in these conditions. There was something missing from our play tonight. Metz showed a lot of quality, but we helped them as well. We didn't start off too badly, but from their first two chances we conceded two goals. That hurts. Afterwards you have to get back into the game. We started the second half well and reduced their lead, but their third goal effectively ended the contest. It was a match between a good Metz side that had nothing to lose and an underperforming OL side. In a cup game the most important thing is to get through to the next round. We're disappointed as we didn't put in the performance we could have. That's one less competition for us to deal with, but tonight we just weren't good enough to get through. I repeat, we win together, we lose together. Tonight the players and the staff lost. We'll analyse what went wrong. Even if it hurts, this defeat should be used as a springboard to get things going right again, and straight away on Sunday in the League. We'll be concentrating on recuperation, we don't have time for self pity.