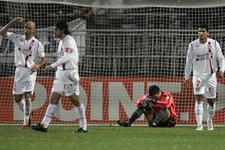 Against a good Metz side, OL were just not at the races and finally lost 3 - 1. Claude Puel's men leave the Coupe de la Ligue in the last 16.
Claude Puel used the Coupe de la Ligue match to rotate his squad. The youngster Sébastien Faure was in the starting line-up for the first time this season, as was the Brazilian Fabio Santos.

Monsieur Fautrel brought play under way with Gerland soaking up light drizzle. Strasser slipped 20 metres out from his goal with Ederson taking advantage to fire off the first shot of the encounter, his effort being pushed away by Metz's goalkeeper (2'). Källström then took his turn, but his effort went a good metre wide of the goal (5'). At this point OL were comfortably installed in their opponents half of the field. The visitors opened the scoring completely against the run of play, with Victor Mendy heading home a Renouard corner from inside the six yard box (20'). Pouliquen's players were liberated with a weight off their shoulders and after a great counter attack, Renouard alone at the back post left Rémy Vercoutre no chance (27'). OL reacted with a header from Ederson following a cross from Keita but Sissoko was able to save (35'). OL came close to the KO when Mendy fired in a shot from close range, but Vercoutre was able to block (39'). Fabio Santos, injured after a nasty tackle, was forced off and replaced by Jean II Makoun (42'). The referee brought an end to the first half with the score at 2 - 0 in favour of Metz.

Gerland was expecting a reaction from OL in the second half, and it came almost immediately from a Källström corner, Cris got the better of the Metz defence and headed the ball into the net (48'). Juninho tried to turn things around by running almost the length of the field with the ball but his effort was no problem for the opposition keeper (59'). Keita was able to carve out a great opportunity, but his effort went well over the bar (63'). OL multiplied their assaults on Sissoko's goal, but were unable to equalise for the moment. Following a back pass from Jean II Makoun, Rémy Vercoutre messed things up and gave the ball directly to Rocchi who scored in the empty net (67'). 3 - 1! Metz scored just as OL where pushing forward the most. Ederson then Källström came up short again in front of the Metz keeper (74'). Rémy Vercoutre won a one on one with Renouard, without which the match could have turned into a rout (79'). One last free-kick from Juninho in stoppage time gave Gerland some hope, but the Brazilians effort just grazed the upright of Sissoko's goal.