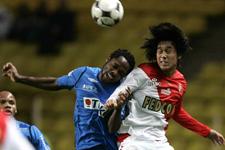 Read all the reactions from the OL camp after the win over Monaco.
Jean II Makoun
Monaco pushed us right to the end, but we were in it all together just like on Wednesday (against Bucharest). We showed that we have character , as we really wanted to put on a good show after the European game. We spoke a lot before the game and when we were on the pitch as well. It was good not to concede again. We're playing well together, everyone is aware of that and it's a good thing.

Claude Puel
I'm not more happy about this win than any other, but just as much. It's good to keep winning afate the match against Bucharest. We were very strong and there was over an hour of very high quality play. At the end of the match the players were quite tired but they really wanted to do well. I want to congratulate the players. It's never easy to keep everyone under pressure and give people enough playing time. In any case we're feeling strong and the team spirit is great.

Fred
I'm happy to have scored tonight and that my goal gave us all three points. It will make us stronger for the next few matches. I'm also happy for Fabio (Santos) who finally got back out onto the pitch and for Chelito who played really well. I really want to stay at OL. I've spoken to the President and Bernard, I'm hoping to meet up with them in the coming weeks so that we can extend my contract. I want to score a lot of goals for OL.

Fabio Grosso
It was important to stay concentrated. We had to be god as we wanted to take all three points. It wasn't easy as our opponents were very strong. We cannot focus on the teams that are behind us, we just have to concentrate on what we are doing. Right now, we're thinking about the Coupe de la Ligue match against Metz.