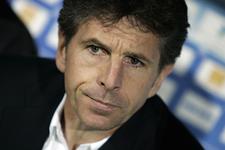 Claude Puel spoke to the Press just two days before the game against Monaco.
Are we getting to a point where the accumulation of matches is going to start becoming a problem?
We have to keep going, getting results and moving forward. We know it's not going to be easy. Against Steaua,I felt that we were fading physically towards the end of the first half. To move forward we have to stay coherent, remain solid, get through everything without too many problems. Because we are disciplined and organised we are able to deal with our matches in a much easier fashion like we did against Le Mans, or, yesterday, to be able to resist even though we weren't to fresh.

OL haven't been able to follow up their Champions League matches with good performances in the Leagu recently. What is your opinion?
It 's a challenge for us. It's true that we weren't good at all against Rennes or Auxerre, despite the players we had out on the field. The Champions League is very draining, mentally. But if we want to step up a level, if we want to progress, you have to be able to perform consistently. The game against Le Mans before the Champions League match was interesting, a lot better than other recent games. Now we have to put in performances like that after Champions League games and prove that we can put in good performance after good performance.

What do you think of Monaco so far this season?
They are a team that runs on cycles. They put in a good performance against Marseille. They possess a lot of quality, quite consistent and play well. They haven't been able to follow-up there good performances. They have just won two games in a row, their morale is on the up and have put in good quality ematches. They have a number of young players who have come through and shown what they are capable of. They are a side under construction, they will have some more up's and down's this season, but their potential is interesting.

The match against Monaco is it a match « like any other» for you?
I left Monaco a while ago, even though I consider it home and have a house there. I left seven seasons ago and what interests me is that OL are capable of going there and winning.

Has Juninho surprised you as far as his physical levels are concerned?
No. I'm happy to see him atthe level he has reached. We speak frequently. What is important with Juni, as we know he will not be able to play in everry match. I think we need to let him rest from time to time, to allow him to recuperate physically and mentally. He knows his body, he knows how to prepare. He has to be fresh in mind and body, because putting in free-kicks like he does demands a lot physically. Everything is linked. That's why we need to keep a close eye on Juni and the rest of the squad for that matter.

Will you rest him against Monaco?
I'll decide tomorrow. I'll see how everyone is so that I can put out a side which will allow us to be victorious.

What has pleased you in OL's progression at the moment?
Everything. Getting results, keeping on progressing, scoring goals, not conceding. It's just normality, and then you feel strong together and, in those periods where we're playing a game every three days, feel that we have a solid base in order to deal with matches even when we're not playing too well. When we are lacking physically, being able to win games and take points. It's the sign of a big club. We have to continue like that.