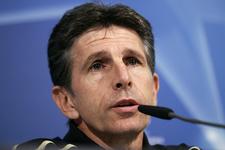 24 hours before the match between OL and Steaua Bucharest, Claude Puel and Hugo Lloris spoke to the media during the traditional press conference.
Hugo Lloris

Is the match in Bucharest (3-5) a good memory for you, personally?
At the end of the day it's a good memory, but there were a lot of things in the performance that need to be corrected, notably our start to the game and the first half performance. We have to start games more aggressively, believing that we can win, especially at home. We cannot however change our style of play, which is very encouraging for the future. What really needs to be remembered is the result and the way we played in the second half, the way we came from behind and won the game. As far as team spirit goes, there is no problem.

What do you think of Steaua?
We have to take them seriously and be wary of them, especially from set pieces. Steaua have a lot of tall players, like Goian. We'll have to be careful at those moments of the game. We have to be strong in our minds, be stronger than our opponents. We have to make this game as easy as possible for ourselves, we must win as we are playing at home. The only thing that is important is the three points.

Claude Puel

Are you worried that your players may be over confident going into tomorrow's game? No, we have always remained humble and shown respect to all of our opponents. We will be there to be counted during the match. We know about the strengths of this Steaua side. The fact that we played well and turned the game around two weeks ago doesn't mean that we are in any way superior to the Romanians. Any superiority will be shown out on the pitch.
Do you think that your 4-4-2 is apt for Champions League matches?
We'll see, you can use any system, even in a Champions League match. Everything depends on the complementarity of the players in the side. We used this formation in the second half against Fiorentina, as we needed to take risks in order to turn things around, we've also played in a similar formation in the League. Afterwards, it's up to me to make things work!

Do you think that Steaua will play in a different configuration, compared to two weeks ago?
After looking at recent games, the Steaua coach seems to prefer a compact 4-4-2. Between our two games, they had a derby match against Dynamo Bucharest. I saw a solid side which showed a lot of desire and in no way looked to lack motivation, on the contrary. I think the change in coach has done them a lot of good and they are not thinking about our last game at all.